Back by popular demand, more reviews Twitter-style. These are all longer than 140-characters, but they're quick looks at recent reads that didn't necessarily merit a long review on their own.
Jasper Jones by Craig Silvey: This Australian import has been getting quite a bit of buzz because it's earned the most starred reviews this year. But honestly, it was disappointing. I was engaged with the story from the beginning, as the mystery and the mental anguish within Charlie reminded me a lot of Paranoid Park and Gentlemen, but the last third of the book becomes one large information dump, essentially bringing the pace to a dead halt and killing any character growth. Moreover, even though I'm not a big mystery reader, I knew the solution to the story near immediately and never found myself questioning the plot twists — they weren't really twisted. I'm sort of surprised the acclaim this one is getting. It's not a poorly written book, but I don't get the rave reviews, either. It was simply okay.
Okay for Now by Gary Schmidt: I was a huge fan of The Wednesday Wars, and though I am glad I read the companion (not sequel), I found it falling into some of the middle grade tropes I really dislike. The writing is strong, and Doug's voice is well-done, but there are situations I felt were rushed in the end of the story. Though I've read arguments suggesting the end makes sense in context of the title, that doesn't forgive it for me. The bigger issue I had was with what happens to Lily, as I feel it's almost an eye-rolling cliche at this point. But, I do think Schmidt might earn his redemption with this novel, as I think it's a Newberry potential title. It's clean, though it tackles some challenging issues, and it's perfectly appropriate for middle schoolers and up.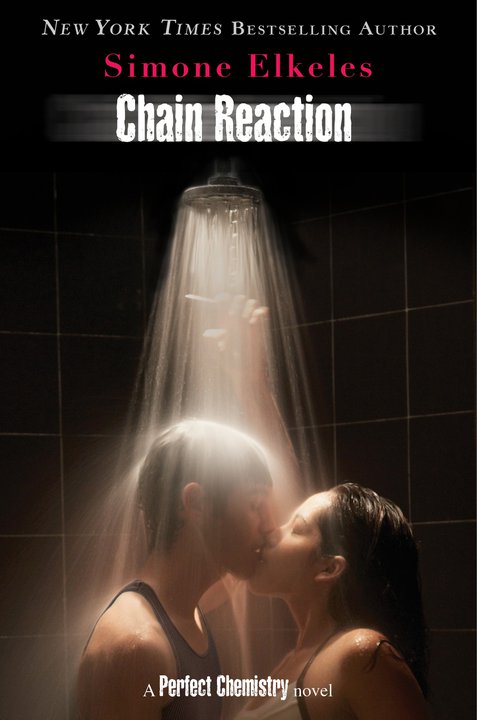 Chain Reaction by Simone Elkeles: This is the third and final book in the Perfect Chemistry series, and I think it is the weakest. That's not to say I didn't enjoy this because there were times I had to put the book down because it gets that steamy. Rather than give us a bad boy this time, Elkeles mixes up the storyline and gives us a good boy and a bad girl. The Fuentes family returns to Illinois, and for me, the setting is what really makes this novel. The manner it deals with gangs and associations has huge appeal to teen readers. The writing itself is not spectacular, but Elkeles's books are less about that and more about the pacing and characters, and with those, she does a good job. Fans of the first books will appreciate this one, and though you could read this book without reading the other two, I'd suggest starting with Perfect Chemistry to become acquainted with the back stories and to see the strongest entry in the series.
Blood Wounds by Susan Beth Pfeffer: I've really come to dislike the reviews of this one that suggest Pfeffer has strayed from her well-loved "Moon" series. I believe an author can branch out wherever they want to, and it's unfair to compare the works cross-genre. That said, I thought this family drama was interesting, and it'll have appeal for many teen readers, I think. There's a fast pace to it, and there are a lot of questions of what if. I felt like I never got a good grip on where the story would take me, and I kind of liked that. However, there are a number of subplots that are underexplored in the story, including ones on social class and on cutting, that are almost unforgivable. There is a huge issue of social class, right within Willa's family, but they're left there unexplored and Willa herself wasn't as emotionally invested in that as I was (wouldn't you hate if your step sisters got everything and you got nothing?) Had these subplots been played upon a little more, this book would have been stronger for me. Also, the cover is terribly unappealing — there's a house involved in this story, and I kept imagining how cool that could have been as a cover and how it would have been a little truer to the plot. Alas.
Blink & Caution by Tim Wynne-Jones:
This has been another book that's gotten a lot of acclaim lately, and while I see it, I don't necessarily think it's the strongest book I've read this year. This thriller will appeal to a lot of readers who stick it out through the clunky beginning of the story, where we're introduced to two characters, Blink and Caution. We're introduced separately, and we're not entirely sure how the two of them will fall into each other's orbits; as soon as we get to that part, though, things speed up. This story of two street kids tackles issues of class and survival quite well, and there's enough twisting and turning to keep the pages moving. That said, I was not into the use of second person. I find that to be a very tricky way of writing, and with the story here being strong as it is, I felt the second person actually slowed the narration down. It wasn't necessary. It was a means of heightening the tension in the story when it didn't really need to be heightened, as there was enough tension without it.