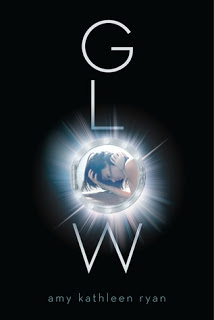 Sometime in the future, our earth has been made unlivable. A group of colonists set out on a course for New Earth, hoping to keep the human race alive. They journey in two ships: the New Horizon, which holds the religious colonists, and the Empyrean, which holds the non-religious colonists. (Full disclosure: I think the explanation for separating the people into these two groups is stupid and not believable. But it's necessary for the plot. And the rest is so well done. I forgive the author.)
On the Empyrean we find teenagers Waverly and Kiernan, our two protagonists. Waverly is the first person born on the ship, and she's been dating Kiernan, the son of the commander, for some time. The journey is going to take awhile, so it's necessary for the people on the ship to reproduce. This means the youth on board are encouraged to marry early and reproduce often. Waverly and Kiernan become engaged near the beginning of the book, and all seems well.
Then the Empyrean meets up with the New Horizon, with which they have not had contact for a long time. Without warning, the New Horizon attacks the Empyrean, kidnapping all of the young girls – including Waverly – and taking them to the New Horizon. The Empyrean is left decimated, intact but not really able to function. Those left on board, including Kiernan and all of the other boys and adults, are pretty much left to die.
Why would the crew of the New Horizon do this? Glow explores this question in chapters that alternate between Waverly and Kiernan's points of view. From the beginning, it's obvious to Waverly and the other girls that the people on the New Horizon are bad – the girls have been kidnapped, their parents are dead, their brothers probably dead too. But things on the New Horizon (and by extension the Empyrean) are not what they seem, and it's a testament to Ryan's skill as a writer that she makes the reader question everything multiple times right along with Waverly. (Waverly, by the way, is an awesome character who shows tremendous growth throughout the novel. She's a thinking woman's badass.)
Meanwhile on the Empyrean, Kiernan, as the commander's son and natural next in line, struggles to maintain control of the ship and plan a rescue amid technical malfunctions and the threat of mutiny from the other boys.
This book definitely needs open-minded, careful readers, those who aren't quick to feel angry over what others may see as the author's attempt to demonize believers or non-believers (and both sides can be argued). Religion is such a touchy topic, one that forms the core of so many people's identities, and it can be tough to handle well. Ryan has certainly succeeded with Glow. She presents an even-handed account of people on both sides of the faith coin. The believers and the non-believers are equally sinister (despite what the initial attack may convey), and it kind of blows my mind that some reviewers are so caught up in whining that their religion is being demonized that they miss the fact that the non-believers are baddies too – and not a lesser kind of bad.
Ultimately, though, Glow is not a story about God's existence – it's a story about how people use the belief or lack of belief in God in order to wield power. It's about how people can seize upon an incredibly powerful idea and use it as a tool to achieve their own goals. It's a story about manipulation and control and human nature, all tied up with a fantastic science fiction story where nothing is what it seems.
Part of what makes Glow so effective is that Ryan thwarts reader's expectations at every turn, primarily where characters' actions and motivations are concerned. Just when I thought I had nailed down who was good and who was bad, who was our protagonist and who our antagonist, Ryan threw me for a loop and I had to completely reassess everything. And then she did it again. I think her point is that there isn't really a "good" or "bad" side – it's not that easy. I love when books can flip things multiple times and make it authentic, just part of the natural growth of the characters and development of the plot.
And of course, there's a great story here – action, love, betrayal, the fate of the new world at stake. This type of science fiction is supposedly the next big thing in YA literature (the space travel kind of science fiction, not the dystopia kind of science fiction, which peaked awhile ago). I'm excited about that. I've always been a fan of the type of science fiction that involves exploring completely new worlds. There's so much room for creativity and uniqueness there, and I could see a lot of great stuff coming out soon – provided the authors exploit that possibility for creativity and don't forget that good stories need good characters. Otherwise, we'll just be seeing a bunch of carbon copies with flat characters and predictable plots.
Glow is the first in a series, but it's so well done that I didn't mind. There's at least a climax and a resolution, which so many first entries lack. And Ryan writes so well that I look forward to seeing what else she does.
Review copy provided by the publisher. Glow will hit shelves September 13.