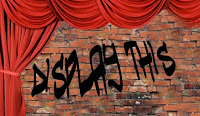 Ready for a fun display idea? Let's look at birthdays — mine is this weekend, and it got me to thinking about how they sort of become less important once you're past your teen years. All of these stories have something to do with birthdays and the events or consequences therein. I've included a couple of middle grade titles, but the bulk are young adult. All covers and copy come from WorldCat.org. This is a small list, so if you have a favorite birthday related book, drop a note so I can add them. I'm a little surprised how this particular topic isn't as widely prevalent in young adult novels as it is in younger novels — just think about the 15th, 16th, and 18th birthday milestones — and I'm particularly surprised how few address this from a male perspective (think about what it means when a guy turns 18).
You Wish by Mandy Hubbard: Kayla McHenry's life is transformed when a wish on her sixteenth birthday comes true–along with all of her previous birthday wishes, beginning with the appearance of a pink pony.
11 Birthdays by Wendy Mass: After celebrating their first nine same-day birthdays together, Amanda and Leo, having fallen out on their tenth and not speaking to each other for the last year, prepare to celebrate their eleventh birthday separately but peculiar things begin to happen as the day of their birthday begins to repeat itself over and over again.
Amigas: Lights, Camera, Quince by Veronica Chambers: Carmen is turning fifteen and her friends Sarita, Alicia, Jamie, and Gaz plan to throw her a quinceañera; but when the group decides to join a reality show competition, Carmen feels like her party is becoming less important.
Leap Day by Wendy Mass: On her fourth Leap birthday, when she turns sixteen, Josie has a number of momentous experiences, including taking her driver's test, auditioning for a school play, and celebrating with her family and friends.
Sweet 16 Princess by Meg Cabot: During the days before her sixteenth birthday, Mia records in her diary her fear that her grandmother and friends may be planning to throw an extravagant Sweet Sixteen party.
Bittersweet 16 by Carrie Karasyov: A student at New York's most exclusive preparatory school for girls deals with the mayhem of "Sweet Sixteen" birthday parties given by the ultra-wealthy.
Sweet 16 by Kate Brian: On the night of her sweet sixteen birthday party, self-centered snob Teagan Phillips receives a visit from a special person who tries to convince the teenager to change the way she lives her life.
Sixteen: Stories About that Sweet and Bitter Birthday edited by Megan McCafferty: Dating! Drama! Driving! Remember what it was like to be sixteen? Whether it was the year your teeth were finally free of braces or the year you were discovered by the opposite sex, that magical, mystical age is something you will never forget.
The Secret Language of Birthdays for Teens by Alicia Thompson: Offers astrological insights into birthday profiles, sharing quizzes and personality descriptions that reveal such qualities as a reader's most compatible pets, dates, and shopping styles.
Estrella's Quinceanera by Malin Alegria: Estrella's mother and aunt are planning a gaudy, traditional quinceañera for her, even though it is the last thing she wants.
Good As Lily by Derek Kirk Kim: Following a strange mishap on her 18th birthday, Grace Kwon is confronted with herself at three different periods in her life. The timing couldn't be worse as Grace and her friends desperately try to save a crumbling school play. Will her other selves wreak havoc on her present life or illuminate her uncertain future?