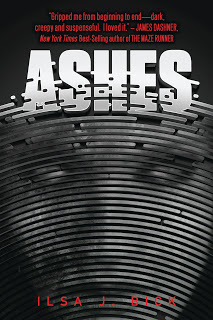 Alex's life is kind of terrible. Her parents are dead and she has an inoperable brain tumor she calls the Monster. She's run away from her aunt's house, where she's been living, to spend some time hiking and camping in the wilderness. She plans to eventually make it up to Lake Superior where she'll sprinkle her parents' ashes. Then a massive electromagnetic pulse hits, knocking out almost all electricity, killing most people, and turning everyone else – except a few – into zombies. Alex is one of the few who survives without turning zombie, as is Ellie, a bratty eight year old girl who was hiking under duress with her (now dead) grandfather.
The first section of the book is an extended action sequence wherein Alex must use all of her wits to survive in the newly zombified world. She's stuck in the wilderness with no car, no electricity, plenty of zombies, and an annoying and unhelpful little girl in tow, but she does pretty well for herself (something I really appreciated – Alex is incredibly smart and capable). When she meets up with Tom, a young military man, they have an even better chance of survival. This first section, which takes up a little more than half the book, is full of action and page-turning suspense. I'm normally not one for a story that is almost non-stop action, but Bick writes it very well.
Then things go downhill very fast (as if the zombie apocalypse weren't bad enough already), and Alex finds herself taking sanctuary in the city of Rule – without her two companions. There are some seriously creepy things going on in Rule that aren't apparent at first. These creepy things involve the council of five men that rule Rule, why the young girls who are taken in by Rule are called the "Chosen," and what the city of Rule's relationship really is with the zombies they keep at bay.
I've seen a lot of negative feedback toward this second part, but I actually liked it just as much as the first. The dynamics between the different inhabitants of Rule are fascinating, and watching Alex assess the situation and attempt to make conclusions about what she experiences is equally fascinating. Plus, I love reading about sinister societies whose secrets are slowly revealed over time.
It's got a lot of elements in common with the
Chaos Walking
series: the end of the world/human civilization, a frenetically paced first section, the protagonist's affinity with a dog/dogs, and a creepy post-apocalyptic society masquerading as a good society that has some serious problems with women. It's not terrible that
Ashes
has so much in common with those books, but because of
my deep and unending love for them
,
Ashes
inevitably pales in comparison – and comparisons are unavoidable here.
Still, that makes it a good readalike for people who enjoyed Chaos Walking. It's also a bit more straightforwardly-told, so readers who disliked Todd's somewhat disjointed narration needn't worry about that in Ashes. In a subgenre so full of mediocre offerings, Ashes is a very good one. It's even written in – gasp – third person past tense! No wonder I liked it so much.
Review copy received from the publisher. Ashes is available now.