Today, we're bringing you something a little bit different — it's a round robin review of a graphic novel, but it's a little more than that. It's also a taste tested review. See, today's book, Bake Sale, by Sara Varon is about a cupcake who runs a bake shop and included in the book are actual recipes from his shop. So we thought it was only fair to review the book by also each trying out one of the sweet treats.
Kelly Says…
I have been looking forward to the next Sara Varon book for a long time. Robot Dreams is probably my favorite graphic novel (you can read Kim's review here), as it tackles the theme of friendship in a unique way. Bake Sale, too, is a story of friendship between Cupcake and Eggplant, and it's geared toward upper elementary and middle school students.
Cupcake owns a bakery, and he's the only one manning it. He makes his living by doing what he loves, and he has regular outings with best friend Eggplant. We're dropped in the story when Eggplant announces he'll be going on a trip to Turkey to visit his family, including his aunt, who is a world-renowned baker. It's not just any world-renowned baker though, it's Turkish Delight, who is Cupcake's ultimate idol.
Over the course of the story, Cupcake begins imagining what it would be like to meet his idol. In the course of thinking about this, he begins stumbling at his job and disappoints some of his customers. But when Cupcake finally says something to Eggplant about his envy that Turkish Delight is related to him, Eggplant insists than Cupcake come along with him to Turkey and meet her. Cupcake laments about not having the money to do that, but he decides that if he worked extra hard — selling his baked goods all over the city and on weekends when the shop's not open and trying his hand at some new recipes — he'd be able to raise the money. And he does!
Unfortunately, something happens in the story and causes his plans to be derailed, and Cupcake no longer has the opportunity to go to Turkey. At least, that's what he thinks.
I don't want to explain much more because this is really quite a simple storyline. The book's strength is in the concept and in the art. I'm a big fan of the soft color palette that doesn't fall into a too cliche or too sweet pastel. It's appealing and approachable, and it works with the story to strengthen it. Each of the characters in this story is unique, and the way that Varon has given each of these foods such a distinct look enhances them. Since we don't get to "meet" many of the characters through the text of the book, we rely almost entirely on the images, and fortunately, it works quite well. The one weakness to the book, though, is that I found the font used for the story to be too curly and cutesy, to the point that it becomes unreadable at times. I found this especially true in differentiating "a" from "2" in more than one place. I wish a simpler font had been chosen, as it would have also made the illustrations do more of the work, which they could have easily done.
The story itself, as I mentioned, is quite simple, and it's nothing entirely new or fresh. But for the age group it's intended for, and with the strength in the illustration, it never comes off as boring or dull. It's a friendship story with a nice lesson at the end, and any reader will appreciate this. I found the ending to this one to be pretty polar opposite that of Robot Dreams, which I enjoyed. Taken together, Varon's two stories of friendship give readers insight into the idea that friendship comes in many forms. I think this book, especially when it comes to its illustrations, will appeal greatly to fans of Raina Telgemeier's Smile.
One of the bonuses in this book is that Varon's included recipes for some of the treats Cupcake makes in his shop. There are a couple peppered in the story itself, but the bulk are in an appendix at the end of the book. And what would a fair review of this book be without having tried out at least one of the recipes?
I give you Raspberry Bars, followed step-by-step via the instructions: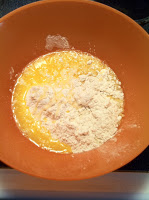 Preheat the oven to 350 and mix together 2 cups of flour with 2 sticks of melted butter until it turns into a nice dough.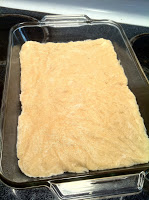 Press into the bottom of a 9 x 13 glass pan. The recipe suggests using wax paper to do it, but I just did it with my clean hands. Easier. That goes into the oven for about 15-18 minutes. Pop it out and let it cool.
While it cools, cut up 2 sticks of room temperate butter into small squares. Mix together 2 1/4 cups flour and 1 1/2 cups unpacked brown sugar, then press the butter in using either a pastry press or a fork (or frankly, I used my hands) until you have a crumbly topping.
Drop a cup of raspberry preserves onto the now cool dough. Leave room along the edges for it to spread out. On top of that, put your crumbly mix of flour, butter, and brown sugar. It'll look like this: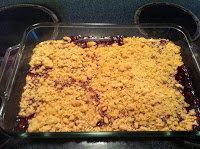 Put it in the oven for 20 minutes or so, until the top is nice and crisp. Then, you will get to enjoy something like this: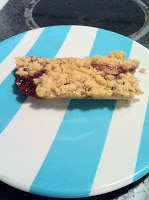 And yes, it was delicious. My husband took a bite and loved it, and even though I'm not a baked sweets person, I thought it was really good, too. We talked about how adaptable this recipe could be, too. I'm a big fan of fig, and that would have made a great filling, as would adding a bit of lemon zest to the top and filling.
Although this book is marketed toward younger readers who might not be all that kitchen savvy, I think these recipes are simple enough that it would be easy to get an adult to help and make them possible. What a cool little addition to the book — something that definitely could take this from being a book in a library collection to a book that inspires an entire library program.
Kimberly Says
Bake Sale is a sweet little book (pun intended). It's a gentle story of friendship with a very simple storyline. This simplicity is reflected in the names of the characters (all are named for what they are – Cupcake, Eggplant, Potato, Turkish Delight) as well as the illustrations. Varon uses a lot of pastels, but doesn't let it get too precious. She relies a lot on basic shapes – circles, squares, etc. The result is a book clearly meant for children, but not done childishly (if that makes sense).
The recipes in the back are equally simple. I chose to make the peppermint brownies, which involves combining your basic brownie ingredients plus peppermint extract and letting it bake twenty-five minutes in the oven. There's also an optional frosting you can whip up in a few minutes – again, it's the basic ingredients (butter, milk, powdered sugar) plus peppermint extract (and some food coloring if you wish). Adult supervision will be required for children, since they'll need to use the oven and the electric mixer, but it's a good beginner recipe. There's nothing fancy here, but the results are tasty and demonstrate that you don't need to go to a whole lot of effort to create something delicious.
I wasn't as enamored of Bake Sale as I was with Robot Dreams. I think Robot Dreams accomplished more with its art and imparted greater meaning. It also holds up to re-readings much better. This is not to say Bake Sale isn't a worthy book. It's meant for a younger audience and it's successful in that regard. And like Kelly mentioned, it's a program in itself – what librarian could resist?
Review copies received from the publisher. Bake Sale will be available to purchase August 30.