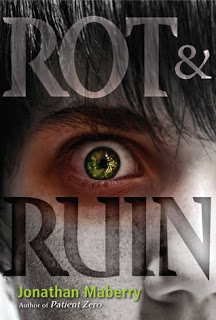 Zombies are people, too. Or at least, they were.
That's the lesson Benny Imura learns the first time he goes out zombie hunting with his older brother Tom. Tom's a zombie bounty hunter (he prefers to call himself a "closure specialist") and has agreed to take Benny on as an apprentice when Benny's other attempts at holding down a job fail. Benny's just turned fifteen, and in the post-apocalyptic world he inhabits, where zombies outnumber humans, all fifteen year olds must work a part-time job or have their rations cut in half.
Tom's a different sort of zombie hunter who eschews the violent tendencies of the other big-name hunters and takes his job seriously. What exactly it is that Tom does when he goes hunting will surprise you, so I won't share it here – you'll have to read the book to find out. It's one of the many surprisingly moving moments in this terrific book that is equal parts humor and heart.
Of course, hunting zombies (zoms for short) isn't all Rot and Ruin is about. While the zoms provide plenty of action, the real conflict is with other living, non-rotting humans. Benny practically hero-worships the big-name zombie hunters – Charlie Matthias and the Motor City Hammer, for example – and looks down on his older brother, who he sees as weak and cowardly. Part of that feeling stems from the fact that when the zombie apocalypse occurred, Tom swooped up Benny (who was a toddler at the time) and ran away, leaving his mother to be turned by his already zombified father.
So things are tense between the brothers. Then Benny's friend (and potential girlfriend) Nix Riley is abducted by Charlie and the Hammer, and Benny and Tom venture out into the great Rot and Ruin to rescue her from a pretty awful fate. They must battle zombies, contend with the murderous bounty hunters, and hopefully find the mysterious Lost Girl, who may be the key to rescuing Nix.
The first sections of Rot and Ruin are pretty hilarious. They chronicle Benny's attempts – with his friend Chong – to land a part-time job. This might have been tedious reading in a world not overrun by zombies, but the zombie apocalypse has created a plethora of new jobs that are a riot to read about. For example: Benny interviews to assist an artist who specializes in erosion portraits – zombified images of family members that people pay for. Benny and Chong also try their hand at being pit throwers (unloading dead zombies from the backs of trucks and throwing them into the fire), carpet coat salesmen (literally, selling coats made out of carpets so zombies can't bite you), and locksmith apprentices (to keep the zombies out of your home in case they break through the fence).
While the first portion of the book is definitely the funniest, Benny's narrative voice keeps the funny going in bits and pieces throughout, despite the serious turn the story takes when Nix is abducted. I can count on one hand the books I've read that are this successful at combining laugh out loud humor with true poignancy (The True Meaning of Smekday is another one that does it). Rot and Ruin is so successful, in fact, that my eyes welled up at the end. (Yours will too, trust me.)
Maberry is an old hat at zombies in the adult fiction market, and it shows here. He's created a fantastically detailed and believable world. In Rot and Ruin, the zombie apocalypse is more than just a punchline or a device to creep you out, and that's something I really appreciated.
The main criticism I have of Rot and Ruin is with Tom: he's just too perfect. Sure, Benny resents him, but we know from the get-go that his resentment is misplaced. Tom not only has a heart of gold, he's a badass fighter, a father-figure stand-in, and exemplifies the qualities of compassion and mercy. He's the ultimate boy scout. He's someone to look up to, to be sure, but he's also someone who's a little annoying because of it.
Of course this is a minor quibble in an overall fantastic book. There's a sequel out August 30, but don't take that to mean Rot and Ruin isn't a complete book – it is, thank goodness. It just means that Maberry has more stories to tell about Benny and his world, for which I am very grateful.