I've been able to read a ton of things lately, but typing up in-depth reviews for everything I read is impossible. So, here's a few books I've dove into recently and my thoughts on them, Twitter-style. Of course, they're a little longer than 140 characters, but these are short and to the point.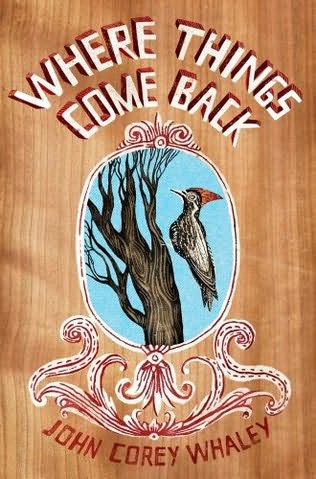 Where Things Come Back bu John Corey Whaley: This quiet contemporary gem is a story about small town life. Told through dual, seemingly unrelated narratives, this layered and nuanced story introduces us to Cullen, whose brother Gabriel has just disappeared. While everyone searches high and low for Gabriel, Cullen begins his own mourning process. At the same time, we meet an academic hell bent on finding meaning in faith who is so driven by uncorking the mysteries of life and the afterlife, that he becomes delusional and destructive. Both narratives tie together over a man named John Barling, who has come to Lily, Arkansas and claims he has rediscovered the elusive Lazarus Woodpecker. This story of faith and belief is one that will appeal to those who like sharp story telling and more literary works. Faith, family, and small-town politics are all at play and all given even-handed, fair treatment, and Cullen's voice in this story is knockout: it's rich, authentic, and full of emotion that begs the reader to feel things right along with him. I suspect this is the kind of book that might see some Morris attention this year because it really is that good.
The Vespertine by Saundra Mitchell: This historical fiction, set in 1899, follows Amelia van den Broek as she's sent from her home in rural Maine to live with her cousin Zora's family in wealthy and stylish Balitmore. The goal, of course, is for her to court a suitable man and settle down but things go a bit awry. See, Amelia can see the future, and as much as it becomes a fun parlor trick that bemuses the girls in Zora's social circle, it becomes a burden when the futures start to play out in ways that ruin lives. This is a well-paced story that exudes the historical setting, right down to the language and lush, sometimes extravagant, settings. It's a clean story, too, and one that will appeal to a wide range of young adult readers. I'm eager to go back and read Mitchell's first novel, Shadowed Summer, and I am happy to say that this book left me eager to read the next book in this series. It was that engaging and fresh that, when I finished, I anticipated future installments in Amelia's story.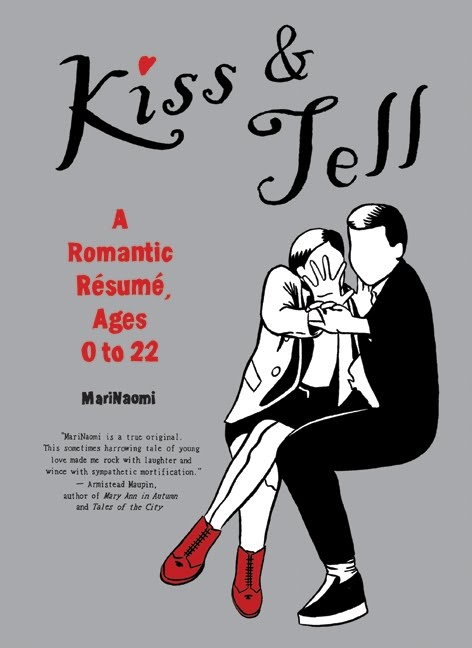 Kiss & Tell by MariNaomi: This graphic novel is one for fans of Julia Wertz. Naomi's written a memoir that follows all of the relationships she's been through. Rather than focus only on the romantic aspects of them, she broaches other things that worked or didn't work in the relationship. She begins with her youngest relationships — those little kisses and "I like you" sort of things that happen in elementary school — then delves into the later relationships. Although I liked the concept, the book was a little too long for me and felt uneven, as there was a lot of emphasis on those very early relationships and not enough on the later relationships, which had more depth and made for more interesting reading. For a first novel, though, it was a good effort, and it has piqued my interest in future stories from MariNaomi. This book would be fine for older teens and definitely adult readers, and it's completely LGBTQ friendly. Be prepared for reading and seeing what happens in real, honest relationships. That is to say, there is nudity and it's unflinching at times (and sometimes in a really funny way, too).
The Summer I Learned to Fly by Dana Reinhardt: This story was uneven for me, as it's set in the 1980s for no good reason (actually, I think anyone knows the big reason books are set in this time period frequently is that it's often a way to avoid technology and because it's a time period that many authors are comfortable with, having experienced it themselves). Likewise, I found it a bit jarring to read a story told through the eyes of an 18-year-old about being 13, as it was a little too self-reflective. That said, Reinhardt's style continues to grow on me, as she's a slow reveal storyteller, and her writing is tight. Drew is an interesting character, and I loved the setting in a cheese shop. Perhaps my favorite part of the story was the use of her father's notebooks as a way to discover who she is and a way to figure out how to be her own person. I loved seeing how much Drew related to the father she didn't know through his life lists, and I loved how, despite not wanting to be a list keeper herself, she is, and we as readers get to see her become a strong, independent person.
Dark Souls by Paula Morris: Morris's debut novel Ruined is one of my favorite books to book talk because it has a mix of so many good elements — it's a ghost story, it's got a great setting in New Orleans and builds upon the lore of the city to enhance the ghost story, and it's a story about a girl fitting in as an outsider. It's clean and well paced, and it's one of my perennial book talk picks. I was thrilled to get to read Morris's second novel, also a ghost story, but this one was set in York, England, following a horrific accident that led Miranda to discover she had a power to see things that don't really exist. The setting and lore upon which this story is built wasn't as strong nor memorable as it was in Ruined, and I found the story to drag in more than one place. The romantic elements fell flat and were uninteresting to me, and even after finishing what should have been a really enjoyable supernatural story, I found myself disappointed. That said, I think fans of Ruined will like this one, and it's appropriate for younger and older teen readers who want a spooky story that doesn't rely on witchcraft or paranormal romance. It's a true ghost story.