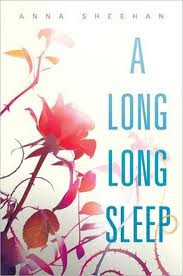 It's Bren whose lips are on Rosalinda's when she wakes from her 62 year sleep. But it wasn't an ordinary sleep; this was a stasis sleep, one which she was put into under suspect reasons and left in for far longer than she should have been.
That 62 years means many things have changed, and it means that Rose slept through the Dark Times. Now she's learning about it in her history class and needs to know more than just the events she's slept through. Where are her parents? Why was she left to sleep that long? Where is her long time love Xavier? And what does Bren have to do with all of this? Why was it his kiss that awoke her from this sleep?
A Long Long Sleep was one of the strongest books I've read in a while, and it's so different from my usual reading fare. This story is science fiction with a melding of fantasy, as it's a bit of a retelling of the story of Sleeping Beauty. It's one that's a little bit slower paced, but that's because there is so much revealing to happen, both for the readers and for the main character, that that speed is necessary. It works well, and the writing itself is strong enough to sustain the pace and the plot.
As readers, we're immediately dropped into Rose's world right along with her. We aren't familiar with the place she's at, though there are certain elements that make sense and certain elements that emerge that are realistic. There's big corporations and the role they place in society, pitted against ideas of science and nature, as well as the deep down love story at play between Rose and Xavier — and it's this love story that really kept me reading.
We know from the beginning that when Rose entered her long stasis, she was in love with a boy named Xavier. We know there was a little bit of an age difference between the two of them, but each time Rose talks about Xavier, the age issue changes slightly, as does her perception of what they were and what they could have been had they had the chance. Bren, the boy who wakes Rose, becomes her close friend during the course of their time together, but she knows that he can never be a replacement for Xavier, and she tells him as much (and regularly). But as readers, we know there is something deeper going on with Bren, and we know he has to play a larger role in Rose's life than she thinks. It's both predictable and a twist when his role in the story is revealed.
As I alluded to earlier, the strongest part of this story is that we're dropped into the story right where Rose is, and we learn everything about her world along with her. Sheehan's decision to develop her story this way means that there are a lot of questions to be answered, and we're left wondering if what we predict to be true really is or if we're going to be surprised. For me, there were a lot of surprises, especially when it came to understanding why Rose underwent stasis in the first place and what experiences her parents had during the Dark Times. I was completely absorbed in this world. I wanted to know more, and with each piece of the story coming into place, I felt like I understood and sympathized with Rose more and more.
The politics in this book are worth noting as well: much like the recent XVI by Julia Karr, there is a lot of discussion of corporate control and power in this book. Some of these passages were among the most interesting for me, simply because I wanted to know where Rose stood on the issue as the person who is at the center of this corporation. I can't say much more without spoiling that aspect of the story, but she wakes into a world where she is both powerless and all powerful, and Sheehan offers us a chance to watch Rose navigate this gulf.
Of course, there were some weaknesses in plotting and story telling here. Part of the challenge in this book was that Sheehan tries to incorporate a few too many elements into an already complex and interesting story. Though the story is told mostly in traditional language, she does offer up a few new words in the language of this society and it doesn't work particularly well. It could have been left out entirely, and as readers, we would have still understood the futuristic world setting. Moreover, a few other plot holes emerged through the course of unraveling the storyline, and a lot of them felt a little too convenient for me as a reader (this is naturally the downside of a book where you learn the story along with the character). That said, these aspects of the story did not make the book weak, given the strength of the writing and the uniqueness of Rose and the world as a whole.
A Long, Long Sleep will appeal to fans of fairy tale retellings with a twist, as well as fans of science fiction with a little bit of a dystopian swing to it, like Karr's XVI. It's an engaging world, and through the way the story builds, this is the kind of book that could appeal to traditional non-genre readers, as well. It bends through a few different genres and twists expectations.
Book received from the publisher. A Long, Long Sleep publishes today.