Here's an interesting double-take: the same almost-kissing couple on the cover of two pretty different books.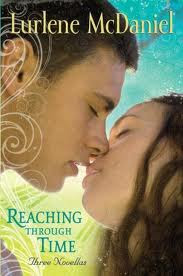 The choice of background image is what differentiates one book from the other. The one at the left is (obviously) much darker, giving it a moody edge, whereas the one at the right screams "girly book." I haven't read either, but the synopsis for Simone Elkeles' Return to Paradise indicates that it is indeed pretty moody. I wouldn't necessarily say that putting a kissing couple on the cover of a book makes it appeal to boys, but the darker background of Elkeles' book speaks to both genders better than the pastel swirls of the other.
When I came across Reaching Through Time in a catalog, I was a little flabbergasted to discover that Lurlene McDaniel is still writing – and even more flabbergasted that the book is a collection of three romances involving time travel and NOT ONE of them seems to include a tragically terminal teenager. It was just released on the 9th – has anyone read it?