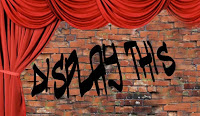 I finished reading a graphic novel last week that Kim and I plan on reviewing shortly, and it left me thinking about books that feature food, be it because a character is obsessed with a certain type of food or because they work in the food business. Sometimes that food is sweet, and other times, it's more of an odd trait to the character that makes them just a little different. I know book lists like this have been done before, but I've included recent titles to update prior lists, and I hope you toss out any titles you can think of that fit the theme, too. All descriptions come from WorldCat.
Sweet Treats and Secret Crushes by Lisa Greenwald: When a snowstorm keeps thirteen-year-old best friends Olivia, Kate, and Georgia inside their Brooklyn, New York, apartment building on Valentine's Day, they connect with their neighbors by distributing homemade fortune cookies and uncover one another's secrets along the way.
The Girls by Tucker Shaw: An elite Aspen prep school sets the stage for jealousy and intrigue as the lives of many girls intertwine and tangle into a wickedly fun mess (in which no boys ever appear). This one features a girl who is a barista.
The Sweet Life of Stella Madison by Lara Zeises: Seventeen-year-old Stella struggles with the separation of her renowned chef parents, writing a food column for the local paper even though she is a junk food addict, and having a boyfriend but being attracted to another.
The Summer I Learned to Fly by Dana Reinhardt: Thirteen-year-old Drew starts the summer of 1986 helping in her mother's cheese shop and dreaming about co-worker Nick, but when her widowed mother begins dating, Drew's father's book of lists, her pet rat, and Emmett, a boy on a quest, help her cope.
Scones and Sensibility by Lindsay Eland: In a small New Jersey beach town, twelve-year-old Polly Madassa, who speaks like a character in her two favorite novels, "Pride and Prejudice" and "Anne of Green Gables," spends the summer making deliveries for her parents' bakery and playing matchmaker, with disastrous results.
Confessions of a Triple Shot Betty by Jody Gehrman: Sixteen-year-olds Geena, Hero, and Amber spend the summer working at a Sonoma, California coffee shop, where they experience romance, identity crises, and new found friendships.
Donut Days by Lara Zielin: During a camp-out promoting the opening of a donut shop in a small Minnesota town, sixteen-year-old Emma, an aspiring journalist, begins to connect an ongoing pollution investigation with the turmoil in the evangelical Christian church where her parents are pastors.
The Espressologist by Kristina Springer: While working part-time as a barista in a Chicago coffee bar, high school senior Jane dabbles in matchmaking after observing the coffee preferences of her customers.
Coffeehouse Angel by Suzanne Selfors: Sixteen-year-old Katrina's kindness to a man she finds sleeping behind her grandmother's coffeehouse leads to a strange reward as Malcolm, who is actually a teenage guardian angel, insists on rewarding her by granting her deepest wish.
The Truth About Forever by Sarah Dessen: The summer following her father's death, Macy plans to work at the library and wait for her brainy boyfriend to return from camp, but instead she goes to work at a catering business where she makes new friends and finally faces her grief.
Killer Pizza by Greg Taylor: While working as summer employees in a local pizza parlor, three teenagers are recruited by an underground organization of monster hunters.
Close to Famous by Joan Bauer: Twelve-year-old Foster McFee and her mother escape from her mother's abusive boyfriend and end up in the small town of Culpepper, West Virginia, where they use their strengths and challenge themselves to build a new life, with the help of the friends they make there.
The Cupcake Queen by Heather Hepler: While longing to return to life in New York City, thirteen-year-old Penny helps her mother and grandmother run a cupcake bakery in Hog's Hollow, tries to avoid the beastly popular girls, to be a good friend to quirky Tally, and to catch the eye of enigmatic Marcus.
Crush du Jour by Micol Ostow: When Laine decides to teach a cooking class at her local community center, she meets Seth, her sexy co-teacher, and when he offers her a job at his family restaurant, Laine cannot resist, but soon discovers that Callie, another waitress, is planning to steal Seth for herself.
Recipe for Disaster by Maureen Fergus: Francie's life is almost perfect before new girl Darlene shows up. She has her own business as a weekend baker, a best friend named Holly, and a crush on Tate Jarvis. But Darlene thinks Francie's obsession with baking is weird, she acts like Holly is her best friend, and she's somehow managed to steal Tate's attention away. Just as Francie's pastry-filled dreams are starting to slide, she gets a chance to meet celebrity baker Lorenzo LaRue. Francie is sure that if Lorenzo could only see how passionate she is about baking, he would help launch her career and possibly marry her.
Black Box by Julie Schumacher: When her sixteen-year-old sister is hospitalized for depression and her parents want to keep it a secret, fourteen-year-old Elena tries to cope with her own anxiety and feelings of guilt that she is determined to conceal from outsiders. Elena's neighbor/friend is an amateur chef.
The Teashop Girls by Laura Schaefer: Fourteen-year-old Annie, along with her two best friends, tries desperately to save her grandmother's beloved, old-fashioned teashop in Madison, Wisconsin, while she also learns to accept the inevitability of change in life. Includes proverbs, quotations, and brief stories about tea, as well as recipes.