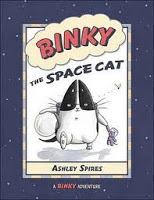 Binky is a space cat, although no one else in his household knows it. He's received his official letter from F.U.R.S.T. (Felines of the Universe Ready for Space Travel), which means he is ready to venture outside of the house and into outer space (known simply as "outside" to the rest of us). Binky's goal as a space cat is to protect his family – a woman and her son – from the aliens that encroach upon their home (also known as the space station). You and I may call the aliens bugs or insects, but Binky knows better.
In Binky the Space Cat, Binky begins his tenure as a space cat by building a space ship. His family ventures into space all the time, and Binky knows he must protect them from the aliens that live out there. The only way to do that is to build a space ship and go out exploring. He also must undergo a lot of self-directed training for his trip. His faithful companion Tim, a stuffed mouse, is with him constantly. Binky's project goes fairly well for some time, but when he nears the launch date, he realizes something that changes all of his plans.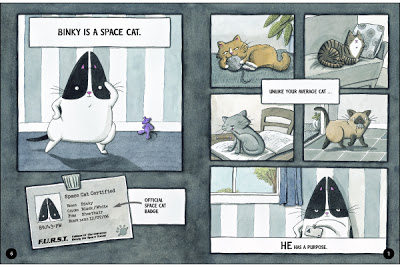 Binky the Space Cat
In Binky to the Rescue, Binky falls out a window into outer space. He is rescued by his family, but when he is brought back inside, he realizes Tim has been left outside – right underneath an alien warship! Binky mounts a rescue, all the while being thwarted by his family who insist on keeping him inside the space station.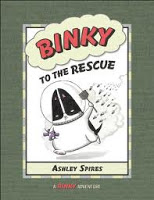 The stories are told mostly with captions rather than dialogue. Binky is not a talking cat – he meows and sobs and munches and makes other noises, which means he is much more of a "real life" cat than his feline counterparts in other stories. It wasn't what I was expecting – I'm so used to talking animals by now that I'm surprised when they don't talk – but it made for a nice change. Spires' narration is witty and sly and just right for kids, who should get a real kick out of Binky's misunderstanding of common everyday items as things from outer space.
Because Binky doesn't speak, he communicates a lot through his facial expressions. All of his emotions are crystal clear and highly amusing. In fact, I'd say Spires excels more at the illustration aspect of storytelling than the writing, although she's no slouch at writing either. As a bonus, these books are full-color, something I almost always require in a graphic novel before I'll even consider picking it up.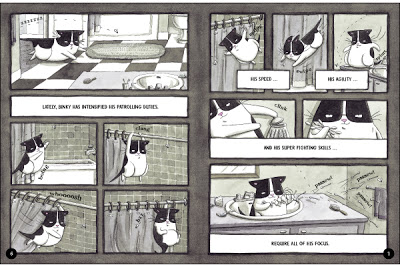 Binky to the Rescue
Possibly my favorite review of this series of books is the one from School Library Journal, which calls it "sweet and clever, and for those who disdain sweet and clever, there is also farting." The books are perhaps not as clever as I had wished – I tend to get my hopes up sometimes – but they're clever enough to keep me reading and enjoying. Plus, Spires includes plenty of details in the illustrations that can be picked up on a re-read (in my case, I discovered at least one new fart, helpfully pointed out to me by my boyfriend). Binky's a winner – and there's a third adventure due out on September 1.
Books borrowed from my local library.