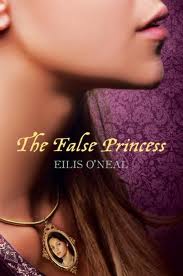 Nalia is the crown princess of the country of Thorvaldor, raised to know that she will one day be queen. Except she's wrong – she's called into the throne room one day and told by the people she thought were her parents that her real name is Sinda, and she's a false princess.
When the real Nalia was born, the Oracle gave a prophecy that stated she would die before she reached age 16. Therefore, the princess was taken to a safe location and another baby – Sinda – was brought in to take her place for sixteen years. Now that the real Nalia has survived to age sixteen, the charade can end. Nalia is brought to the palace and welcomed by the citizens of Thorvaldor, while Sinda is sent to a country town to live with her aunt (her real mother abandoned her and her father died some time ago).
Sinda, while not proud, finds this arrangement almost unbearable. Her aunt is a dyer, a trade which Sinda knows nothing about, and her attempts to learn are fruitless. Furthermore, the woman is cold and unsympathetic, and the townspeople gossip about Sinda. She has no real friends there and misses Kiernan, the noble boy who was her dear friend at the castle.
When Sinda discovers that she has magical abilities, she leaves her aunt and the country town and moves back to the capital city. She's taken in as an apprentice by an eccentric old female wizard and begins to settle in to a content – if not completely happy – life. But things don't remain calm. Soon, Sinda uncovers a conspiracy involving her, Nalia, and yet another girl in another place. She and Kiernan dig into the past in order to expose the person who set in motion a plan to topple the ruling family sixteen years ago.
There were a lot of things I really enjoyed about The False Princess, Eilis O'Neal's debut novel. Sinda has a strong, interesting voice. She's believable with understandable strengths and weaknesses. She seems like an actual teenager, not an adult who occasionally makes bad decisions. Most importantly, she grows throughout the novel – she learns to stand up for herself and not just accept what is given to her. She learns to ask (or fight) for more.
The plot itself is fairly standard, but that's not a bad thing. People who pick up books like these want a fun mix of magic, adventure, and romance, and that's exactly what O'Neal delivers. And she did manage to surprise me at a pivotal moment, which I really appreciated.
Mandy Williams narrates the story slowly, in a soft but clear voice that is perfect for contemplative Sinda. She doesn't give much variation for other characters, but that doesn't harm the story. It's told in the first person, so the minimal differentiation makes sense.
That said, I felt like the writing was lacking in parts. In half a dozen spots, I was able to speak the story aloud simultaneously with Williams – and I had never read or listened to the book before. This indicates clichéd or unoriginal prose, which is too bad. O'Neal is deft at characterizing Sinda, but the writing lacked sparkle otherwise.
I'd hand this one to fans of re-told fairy tales and books in the vein of Ella Enchanted (though it doesn't come close to Gail Carson Levine's level of humor and charm). It doesn't deliver anything new, but it's a tried and true kind of story and it's told well. As a tween or young teen, I just know I would have pictured myself as Sinda (who is somewhat timid, has brown hair, and loves to read) as I read the book. It's definitely a winner.