It's that time again: Printz award prediction time. This is completely unscientific and founded on little other than our reading this year and some of the hunches we've gathered through starred reviews and word-of-mouth. Last year, we limited ourselves to books published prior to this point in the year only, but this year, we're also pinging titles we have read that may be published later on in the year.
We'd love for you to chime in and offer up your thoughts in the comments. And of course, anything you agree or disagree with, we'd love to hear.

This year, I'm in the rare position of not actually having read three out of the four books that I am predicting for potential Printz titles. Yes, I've read a lot so far this year, many amazing books, too, but not many have leapt out as me as worthy of committee consideration.
At the moment, my front-runners would have to be:
Chime by Franny Billingsley: I haven't read this one yet, although it's high on my list. Many bloggers have gushed about its lush language, fantastical plot, and intriguing main characters. I've also heard that it's a bit weird and slow-moving, but honestly…that sort of thing, combined with utter artistry, could be exactly what the Printz-committee is looking for. Kim reviewed Chime here.
Imaginary Girls by Nova Ren Suma: I also haven't read this one. However, Suma's exploration of the pull of sisterly love, mixed with paranormal aspects, is garnering rave reviews. Kim and Kelly reviewed this earlier.
Beauty Queens by Libba Bray: I bought this one, but still haven't gotten to it in my pile. Libba Bray is one of my favorite authors, and it would definitely be a feat to win the Printz twice in three years. But her exploration of beauty queens, political dynamics, and competition (set on a desert island) could do it. Beauty Queens is supposedly bizarre and over-the-top….exactly what Bray excels at.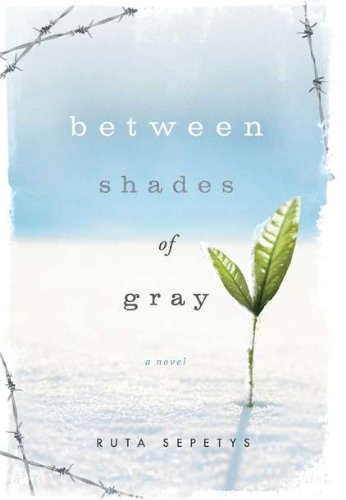 The Dark Horse:
Between Shades of Gray by Ruta Septys: I'd probably slot this more in the Morris category, but it could also merit a Printz honor. One of my favorite books so far this year, I reviewed this here. A heart-wrenching exploration of a little known period in history, the deportation of Lithuanian families by the Soviets, this book is touching, affecting, and heartfelt. A well-done historical fiction that portrays an entire period through one girl's experiences.

I have to admit to thinking that so far this year, the field looks a little dim. I haven't read much that's completely blown me away, nor have I read enough starred reviews to be convinced of a book I may not have read. But without further ado, here's my list of potential Printz titles:
Imaginary Girls by Nova Ren Suma: I think the language coupled with the incredibly creepy vibe of a well-written and engaging story is what makes this one a Printz contender for me. Easily some of the best prose this year.
Chime by Franny Billingsley: I haven't read this one, though Kim has. It's garnered a ton of starred ratings and a lot of buzz about being award-worthy. I think the cover is pretty atrocious.
Strings Attached by Judy Blundell: This is one that I tried reading at the wrong time but am compelled to go back and try to read again. Blundell's a strong writer, and that alone would give her a Printz-consideration for me. Coupled with rave reviews in a number of sources, I feel this is the strongest contender so far this year.
Between Shades of Gray by Ruta Sepetys: Again, I haven't read this one yet (what have I been reading this year?) but it's garnered a lot of positive attention in the reviews. Plus, topically, it's strong and different and a worthy contribution to historical fiction.
Blink and Caution by Tim Wynne-Jones: This story about two kids in a big blackmail scheme recently got a nod from the Boston Globe-Horn Book Awards. Wynne-Jones got some acclaim for his last novel, The Uninvited, but this particular title seems a little more accessible.
The Berlin Boxing Club by Robert Sharenow: I adored Sharenow's first novel, My Mother the Cheerleader, but I haven't yet read this one. But the topic combines historical fiction with sports against the Nazi regime's background, and it sounds like one that has huge potential.
And now, my dark horses….
My Beating Teenage Heart by CK Kelly Martin: This is my shot-in-the-dark title. It doesn't come out until September, so of course, now I'm teasing. But this book was utterly breathtaking, combining powerful prose with a compelling plot somewhat reminiscent (but completely different from) Amy Huntley's The Everafter. It's not a contemporary title like Martin's others, but combines a bit of the fantasy element of the afterlife.
Recovery Road by Blake Nelson: I have reviewed this title, and I'll say this is my "out there" title for Printz consideration. It's garnered a couple of starred reviews, though the talk in the blogosphere on this title has been absent. The writing is strong, and though the topic is edgy, I think the approach and set up of this book have the key components of a Printz nod.

Both Kelly and Jen have mentioned Imaginary Girls (which I enjoyed) and Chime (which I did not) as candidates for the Printz already. I feel Imaginary Girls would be a strong choice – it's well written, literary, and has received two starred reviews from Publisher's Weekly and Kirkus. Plus, I liked it a lot.
While I slogged through Chime and don't feel kindly toward it, I've yet to meet someone who isn't in love with it. It's also gotten more starred reviews than I care to count. If I follow the Going Bovine rule of Printz winners where the weird book I didn't like garners the prize, this one would be the winner.
As many of you have noticed, I read mostly science fiction and fantasy, which are wildly popular right now but don't get tons of recognition with the Printz. Last year's winner, Shipbreaker, was an exception in that it is solidly science fiction, but other winners were mostly contemporary, historical, or just a little surreal (Going Bovine is a good example, and it's another reason I think Imaginary Girls has a good shot). So I'll name a couple of my favorite science fiction/fantasy reads of 2011 and explain a little about why they were so good, but I'll also list a few others I haven't read but seem like contenders.
Glow by Amy Kathleen Ryan is the first book in a new science fiction series about a group of people on two ships going to colonize a new planet. I talked a little about it here, and I plan on writing a full review closer to publication date. I think this one has a lot going for it: good, tight writing, a fairly unique premise, and some interesting and thought-provoking ideas about religion – how it can be used as a tool for good or ill and how it affects people in power. This last bit makes me think it could be Printz-worthy.
Daughter of Smoke and Bone by Laini Taylor is my favorite read of 2011 so far. The writing is so gorgeous, it made me realize that I hadn't read a book in quite some time with truly outstanding prose. The heavy themes that usually make an award-winner aren't as visible in this one, so I don't think it's a strong contender, but it does have some things to say about love and war. Plus, Taylor got some National Book Award love a couple years ago for Lips Touch: Three Times, so she's at least on the radar.
Beauty Queens by Libba Bray I haven't yet read, but have heard good things. Honestly I can't say that I plan on picking it up, since her books don't have a great track record with me, but I figured it was at least worth mentioning.
Shine by Lauren Myracle, about a girl whose childhood friend was brutally assaulted for being gay, has award-winner written all over it. It addresses a hot button issue right now and also describes a meth-riddled small town, something brought to light earlier by Jennifer Lawrence's (aka Katniss Everdeen) turn in the movie Winter's Bone. This is also one I haven't read.
The Piper's Son by Melina Marchetta is the last one I'll list here. Marchetta has gotten Printz love before for Jellicoe Road and this one has received a lot of acclaim. It's the sequel to another book of hers, Saving Francesca, so that may hurt its chances.
What do you think of our picks? Are there any books we missed?