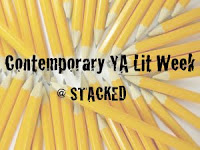 Today's g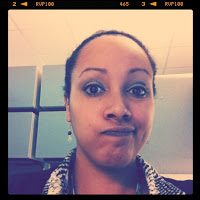 uest post is by someone I got to know last year through Cybils and whose opinions about YA lit I highly respect: Justina Ireland. Justina blogs Wednesdays at the YA-5 and occasionally at her own blog, Teh Awe-Some Sauce. Her first YA book, about a girl possessed by the Furies, is due out from Simon and Schuster in late 2012.
I read a lot of YA across all genres, and although I love my paranormals and dystopian, contemporaries have always had a special place in my heart. Too often it feels like contemporary books are overshadowed by the tsunami wave of books getting released, the bigger books all dealing with a corrupt future society or a girl and her not-so-human love. I also think contemporaries have gotten the bad rap of being either "issue books" (a book that addresses an issue like rape or teenage drinking or drug use or abusive relationships, etc.) or mindless romances.
But that's not true, and there are a ton of contemporaries out there that defy this simplistic breakdown, some of them not getting as much attention as I think they should. So here's my list of the Top Five Contemporaries You Aren't Reading But Should Be*:
1. Ballads of Suburbia by Stephanie Kuehnert
Synopsis: Kara hasn't been back to Oak Park since the end of junior year, when a heroin overdose nearly killed her and sirens heralded her exit. Four years later, she returns to face the music. Her life changed forever back in high school: her family disintegrated, she ran around with a whole new crowd of friends, she partied a little too hard, and she fell in love with gorgeous bad-boy Adrian, who left her to die that day in Scoville Park….
Amid the music, the booze, the drugs, and the drama, her friends filled a notebook with heartbreakingly honest confessions of the moments that defined and shattered their young lives. Now, finally, Kara is ready to write her own.
Why You Should Read It: Kara's storytelling is pitch perfect, and so authentic that you'll actually feel like you're living in Oak Park (a suburb of Chicago) in the 1990s. This book is so addictive that I read it in a single sitting. So pick a comfy spot before you get started.
2. How Not to Be Popular by Jennifer Zeigler
Synopsis: Maggie Dempsey is tired of moving all over the country. Her parents are second-generation hippies who uproot her every year or so to move to a new city. When Maggie was younger, she thought it was fun and adventurous. Now that she's a teenager, she hates it. When she moved after her freshman year, she left behind good friends, a great school, and a real feeling of belonging. When she moved her sophomore year, she left behind a boyfriend, too. Now that they've moved to Austin, she knows better. She's not going to make friends. She's not going to fit in. Anything to prevent her from liking this new place and them from liking her. Only . . .things don't go exactly as planned.
Why You Should Read It: This was one of those books that I laughed so hard that my stomach hurt the next day. Maggie has a great voice, and it's hard to find a truly hilarious contemporary.
I'm not sure when funny became unpopular, but this book reminds me why I love a good lighthearted read.
3. Hate List by Jennifer Brown
Synopsis: Five months ago, Valerie Leftman's boyfriend, Nick, opened fire on their school cafeteria. Shot trying to stop him, Valerie inadvertently saved the life of a classmate, but was implicated in the shootings because of the list she helped create. A list of people and things she and Nick hated. The list he used to pick his targets.
Now, after a summer of seclusion, Val is forced to confront her guilt as she returns to school to complete her senior year. Haunted by the memory of the boyfriend she still loves and navigating rocky relationships with her family, former friends and the girl whose life she saved, Val must come to grips with the tragedy that took place and her role in it, in order to make amends and move on with her life.
Why You Should Read It: Okay, this may not be a lesser known contemp, but the tension of Val returning to a school where her boyfriend killed people, especially when she still loves him, is so well done you won't want to miss this.
4. Gentlemen by Michael Northrop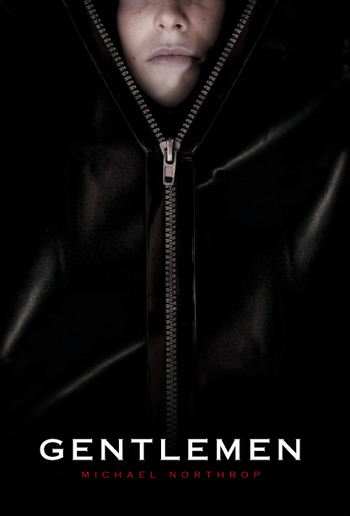 Synopsis: Micheal, Tommy, Mixer, and Bones aren't just from the wrong side of the tracks — they're from the wrong side of everything. Except for Mr. Haberman, their remedial English teacher, no one at their high school takes them seriously. Haberman calls them "gentlemen," but everyone else ignores them–or, in Bones's case, is dead afraid of them. When one of their close-knit group goes missing, the clues all seem to point in one direction: to Mr. Haberman.
Gritty, fast-paced, and brutally real, this debut takes an unflinching look at what binds friends together–and what can tear them apart.
Why You Should Read It: Thrillers make up a large portion of the adult market, and I think they could be poised to really take over the YA market as well. There are more thrillers coming out each year, and this one is not only gripping but very well done. It takes the standard fare of an "issue book" and turns it into something more, which is always a pleasure to read.
5. Compromised by Heidi Ayarbe
Synopsis: Maya's life has always been chaotic. Living with a con-man dad, she's spent half her life on the run. Whenever her father's schemes go wrong, Maya finds a scientific way to fix it.
But when her dad ends up in prison and foster care fails, Maya grasps at her last possible hope of a home: a long-lost aunt, who may not even exist.
So Maya formulates a plan, and with her wits, two unlikely allies, and twenty dollars in her pocket, she sets off in search of this aunt, navigating the unpredictable four hundred miles from Reno to Boise. Life on the streets, though, becomes a struggle for survival—those scientific laws Maya has relied on her whole life just don't apply. And with each passing day, Maya's definitions of right and wrong are turned upside down when she's confronted with the realities and dangers of life as a runaway. She can't help but wonder if trying to find her aunt—and some semblance of stability—is worth the harrowing journey or if she should compromise and find a way to survive on her own.
Why You Should Read It: Ayarbe's depiction of life as a runaway is unflinching, even if you do get the feeling that as the narrator Maya shies away from describing the truly unsavory parts of her life. Still, there is enough left to make this a gritty and absorbing road trip story.
So, obviously there are a lot of books I haven't listed here. That's where you come in. What contemporaries do you think people should read if they haven't, and why?
*How did I come up with this list? A very scientific combination of books with low Amazon rankings, books that always seem to be on the shelf at my local library, and books no one seems to have read during "ohmigod you have to read this book" conversations. So, as you can see, very scientific.