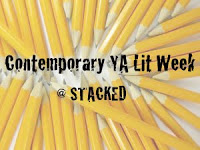 Welcome to another pick list for Contemporary YA Week here at STACKED. Today, we'll hit on loss, then we'll play some sports (where in many of the cases, sports aren't the focal point), and then we'll toss up a grab bag of other titles that tackle challenging and extremely important issues. Again, feel free to steal and chime in with other titles that fit the theme.
Loss
Losing someone you love is difficult, and these books explore the issues surrounding death and grief. Perhaps the most important thing to take away from these books is that grief comes in a million different forms, and each is as valid as the next.
Hold Still by Nina LaCour: Ingrid didn't leave a note. Three months after her best friend's suicide, Caitlin finds what she left instead: a journal, hidden under Caitlin's bed.
Life of Glass by Jillian Cantor: Throughout her freshman year of high school, fourteen-year-old Melissa struggles to hold onto memories of her deceased father, cope with her mother's return to dating, get along with her sister, and sort out her feelings about her best friend, Ryan.
Love You, Hate You, Miss You by Elizabeth Scott: After coming out of alcohol rehabilitation, sixteen-year-old Amy sorts out conflicting emotions about her best friend Julia's death in a car accident for which she feels responsible.
Fall for Anything by Courtney Summers: As she searches for clues that would explain the suicide of her successful photographer father, Eddie Reeves meets the strangely compelling Culler Evans who seems to know a great deal about her father and could hold the key to the mystery surrounding his death.
Adios, Nirvana by Conrad Wesselhoeft: As Seattle sixteen-year-old Jonathan helps a dying man come to terms with a tragic event he experienced during World War II, Jonathan begins facing his own demons, especially the death of his twin brother, helped by an assortment of friends, old and new.
The Sky is Everywhere by Jandy Nelson: In the months after her sister dies, seventeen-year-old Lennie falls into a love triangle and discovers the strength to follow her dream of becoming a musician.
Nothing Like You by Lauren Strasnick: Six months after her mother's death, seventeen-year-old Holly finds some happiness in a secret affair with Paul, a boy she barely knows, but after becoming friends with Paul's girlfriend, Saskia, Holly worries that her best friend, Nils, or Saskia will learn the devastating truth.
Tell Me a Secret by Holly Cupala: Seventeen-year-old Rand's unexpected pregnancy leads her on a path to unravel the mystery of her sister's death and face her own more hopeful future.
Amy and Roger's Epic Detour by Morgan Matson: After the death of her father, Amy, a high school student, and Roger, a college freshman, set out on a carefully planned road trip from California to Connecticut, but wind up taking many detours, forcing Amy to face her worst fears and come to terms with her grief and guilt.
Sports
There are straight-up sports books and there are books that confront a wide array of other story elements with a backdrop of sports in it. These'll do a little of both.
The Ring by Bobbie Pyron: Plagued by slipping grades and a budding criminal record, Mardie's heading down a path of self-destruction she can't seem to avoid. Unlike her perfect older brother Michael, who does everything right according to their father, Mardie can't meet those high expectations. Then she discovers a girls' boxing club at the gym, and learns to believe in herself.
Leverage by Joshua Cohen: High school sophomore Danny excels at gymnastics but is bullied, like the rest of the gymnasts, by members of the football team, until an emotionally and physically scarred new student joins the football team and forms an unlikely friendship with Danny.
Jump by Elisa Carbone: Two teenaged runaways meet at a climbing gym and together embark on a dangerous and revealing journey.
Playing Hurt by Holly Schindler: Chelsea Keyes, a high school basketball star whose promising career has been cut short by a terrible accident on the court, and Clint Morgan, a nineteen-year-old ex-hockey player who gave up his sport following a game-related tragedy, meet at a Minnesota lake resort and find themselves drawn together by the losses they have suffered.
Stupid Fast by Geoff Herbach: Just before his sixteenth birthday, Felton Reinstein has a sudden growth spurt that turns him from a small, jumpy, picked-on boy with the nickname of "Squirrel Nut" to a powerful athlete, leading to new friends, his first love, and the courage to confront his family's past and current problems.
The Running Dream by Wendelin Van Draanen: When a school bus accident leaves sixteen-year-old Jessica an amputee, she returns to school with a prosthetic limb and her track team finds a wonderful way to help rekindle her dream of running again.
Leap by Jodi Lundgren: Having just turned 15 and gone through her parents' divorce, Natalie and her best friend Sasha are going to be practicing with their dance team all summer, but her friendship with Sasha goes on the rock, and her relationship with her boyfriend Kevin who is Sasha's brother goes too far. Will she be taking on all these changes with confidence?
Gym Candy by Carl Deuker: Groomed by his father to be a star player, football is the only thing that has ever really mattered to Mick Johnson, who works hard for a spot on the varsity team his freshman year, then tries to hold onto his edge by using steroids, despite the consequences to his health and social life.
Pinned by Alfred Martino: Dealing with family problems, girls, and their own competitive natures, high school seniors Ivan Korske and Bobby Zane face each other in the final match of the New Jersey State Wrestling Championship.
Life's Other Challenges
There are probably countless categories into which contemporary ya can be placed, since so many important topics are covered. These titles span the range of pregnancy to intimidation, abuse to internet predators. I could make this list eighteen times the length it is, easily.
Break by Hannah Moskowitz: To relieve the pressures of caring for a brother with life-threatening food allergies, another who is a fussy baby, and parents who are at odds with one other, seventeen-year-old Jonah sets out to break every bone in his body in hopes of becoming stronger.
Jumping Off Swings by Jo Knowles: Tells, from four points of view, the ramifications of a pregnancy resulting from a "one-time thing" between Ellie, who feels loved when boys touch her, and Josh, an eager virgin with a troubled home life.
Recovery Road by Blake Nelson: While she is in a rehabilitation facility for drug and alcohol abuse, seventeen-year-old Maddie meets Stewart, who is also in treatment, and they begin a relationship, which they try to maintain after they both get out.
Want to Go Private? by Sarah Darer Littman (July 2011): Insecure about the changes high school brings, Abby ignores advice from her parents and her only friend to "make an effort" and, instead, withdraws from everyone but with Luke, who she met online.
Glimpse by Carol Lynch Williams: Living with their mother who earns money as a prostitute, two sisters take care of each other and when the older one attempts suicide, the younger one tries to uncover the reason.
Crash Into Me by Albert Borris: Four suicidal teenagers go on a "celebrity suicide road trip," visiting the graves of famous people who have killed themselves, with the intention of ending their lives in Death Valley, California.
Because I am Furniture by Thalia Chaltas: The youngest of three siblings, fourteen-year-old Anke feels both relieved and neglected that her father abuses her brother and sister but ignores her, but when she catches him with one of her friends, she finally becomes angry enough to take action.
Willow by Julia Hoban: Sixteen-year-old Willow, who was driving the car that killed both of her parents, copes with the pain and guilt by cutting herself, until she meets a smart and sensitive boy who is determined to help her stop.
The Mockingbirds by Daisy Whitney: When Alex, a junior at an elite preparatory school, realizes that she may have been the victim of date rape, she confides in her roommates and sister who convince her to seek help from a secret society, the Mockingbirds.