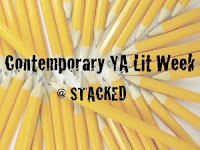 Some of you know and others don't, but Sarah and I are presenting at the American Library Association's annual conference in New Orleans this month on the topic of contemporary ya lit. As part, we've developed a reading list for attendees, and I'm going to share with everyone some of the goods. I'm keeping it simple, with a topic, a cover shot, and a description (pulled from Worldcat). Some books fit in more than one category, though I'm trying to limit the books to one category for simplicity. I'd be interested in your thoughts on any of these titles or ones you think should be added to a category. Today, we've got Friendship, Love, and Rural Life as the topics du jour. And as always, feel free to borrow these lists.
Friendship
Friendship can be good, and friendship can be ugly. These books run the gauntlet. This collection tends to run heavy on female-driven narratives, so if anyone has any good contemporary guy stories about friendship, please share!
Beautiful by Amy Reed: Haunted by serious problems in her recent past, thirteen-year-old Cassie makes a fresh start at a Seattle school but is drawn by dangerous new friends into a world of sex, drugs, and violence, while her parents remain oblivious.
A Little Friendly Advice by Siobhan Vivian: When Ruby's divorced father shows up unexpectedly on her sixteenth birthday, the week that follows is full of confusing surprises, including discovering that her best friend has been keeping secrets from her, her mother has not been truthful about the past, and life is often complicated.
Exposed by Kimberly Marcus:
High school senior Liz, a gifted photographer, can no longer see things clearly after her best friend accuses Liz's older brother of a terrible crime.
Mostly Good Girls by Leila Sales: Sixteen-year-olds Violet and Katie, best friends since seventh grade despite differences in their family backgrounds and abilities, are pulled apart during their junior year at Massachusetts' exclusive Westfield School.
Rival by Sara Bennett-Wealer: Two high school rivals compete in a prestigious singing competition while reflecting on the events that turned them from close friends to enemies the year before.
Shift by Jennifer Bradbury: When best friends Chris and Win go on a cross country bicycle trek the summer after graduating and only one returns, the FBI wants to know what happened.
How to Say Goodbye in Robot by Natalie Standiford: After moving to Baltimore and enrolling in a private school, high school senior Beatrice befriends a quiet loner with a troubled family history.
Lessons from a Dead Girl by Jo Knowles: After her former friend Leah dies in an automobile accident, Laine remembers their troubled relationship, dating back to elementary school when Leah convinced Laine to "practice" in the closet with her, and Leah controlled her every thought.
Like Mandarin by Kirsten Hubbard: When shy, awkward fourteen-year-old Grace Carpenter is paired with the beautiful and wild Mandarin on a school project, an unlikely, explosive friendship begins, but all too soon, Grace discovers that Mandarin is a very troubled, even dangerous, girl.
Love and Romance
This could go on for pages, so we've limited it significantly to titles that give flavor into a variety of relationships. These stories explore love, first romances, and sex. The titles below exemplify heterosexual relationships, as we'll hit LGBTQ titles and relationship dynamics in another post.
The Duff by Kody Keplinger: Seventeen-year-old Bianca Piper starts sleeping with Wesley Rush, a notorious womanizer who disgusts her, in order to distract her from her personal problems, and to her surprise, the two of them find they have a lot in common and are able to help each other find more productive ways to deal with their difficulties.
The Summer I Turned Pretty by Jenny Han: Belly spends the summer she turns sixteen at the beach just like every other summer of her life, but this time things are very different.
The Secret Year by Jennifer Hubbard: Reading the journal of the high-society girl he was secretly involved with for a year helps high school senior Colt cope with her death and come closer to understanding why she needed him while continuing to be the girlfriend of a wealthy classmate.
When the Stars Go Blue by Caridad Ferrer: Soledad Reyes decides to dance Carmen as part of a drum and bugle corps competition, not knowing if it will help or harm her chance of becoming a professional ballet dancer but eager to pursue new options, including a romance with the boy who invited her to audition.
Kiss It by Erin Downing: Small-town Minnesotan Chastity (Chaz) Bryan wants nothing more than to get some sexual experience before she graduates from high school and moves away, but when she meets an intriguing boy visiting from North Carolina over Christmas break, her tough-girl facade slowly breaks down.
Not That Kind of Girl by Siobhan Vivian: High school senior and student body president, Natalie likes to have everything under control, but when she becomes attracted to one of the senior boys and her best friend starts keeping secrets from her, Natalie does not know how to act.
Anna and the French Kiss by Stephanie Perkins: When Anna's romance-novelist father sends her to an elite American boarding school in Paris for her senior year of high school, she reluctantly goes, and meets an amazing boy who becomes her best friend, in spite of the fact that they both want something more.
Back When You Were Easier to Love by Emily Wing Smith: When her boyfriend Zan leaves high school in Utah a year early to attend Pitzer College, a broken-hearted Joy and Zan's best friend Noah take off on a road trip to California seeking "closure."
Shakespeare Makes the Playoffs by Ron Koertge: Fourteen-year-old Kevin Boland, poet and first baseman, is torn between his cute girlfriend Mira and Amy, who is funny, plays Chopin on the piano, and is also a poet.
Rural Life
A slice of life in the rural world. These stories take place outside the city and sometimes, it's this setting itself that plays a huge role in the story.
King of the Screwups by K. L. Going: After getting in trouble yet again, popular high school senior Liam, who never seems to live up to his wealthy father's expectations, is sent to live in a trailer park with his gay "glam-rocker" uncle.
What Would Emma Do? by Eileen Cook: While juggling friendship issues, a love triangle-turned-square, and escalating mayhem in her small religious town, Emma realizes she has to stop trying to please everyone around her and figure out what she wants for herself.
A Little Wanting Song by Cath Crowley: One Australian summer, two very different sixteen-year-old girls–Charlie, a talented but shy musician, and Rose, a confident student longing to escape her tiny town–are drawn into an unexpected friendship, as told in their alternating voices.
The Freak Observer by Blythe Woolston: Suffering from a crippling case of post-traumatic stress disorder, sixteen-year-old Loa Lindgren tries to use her problem solving skills, sharpened in physics and computer programming, to cure herself.
Ten Miles Past Normal by Frances O'Roarke Dowell: Because living with "modern-hippy" parents on a goat farm means fourteen-year-old Janie Gorman cannot have a normal high school life, she tries joining Jam Band, making friends with Monster, and spending time with elderly former civil rights workers.
The Sweetheart of Prosper County by Jill Alexander: In a small East Texas town largely ruled by prejudices and bullies, fourteen-year-old Austin sets out to win a ride in the next parade and, in the process, grows in her understanding of friendship and helps her widowed mother through her mourning.
Where I Belong by Gwendolyn Heasley: When sixteen-year-old Corinne Corcoran's father loses his job, she is forced to give up her privileged Manhattan lifestyle and move to Broken Spoke, Texas, where she discovers that life is more than shopping sprees and country clubs.
Boys, Bears, and a Serious Pair of Hiking Boots by Abby McDonald: Seventeen-year-old Jenna, an ardent vegetarian and environmentalist, is thrilled to be spending the summer communing with nature in rural Canada, until she discovers that not all of the rugged residents there share her beliefs.
All You Get is Me by Yvonne Prinz: Almost sixteen-year-old city-transplant Aurora must adapt to life on an organic farm as she navigates an eventful summer when she falls in love, discovers that her mother has left for good, and watches her father take a bold stand in defense of the rights of undocumented Mexican farm workers.
Stay tuned — we've got more book lists coming up throughout the week.