Once in a while, blogging gives you gifts you weren't expecting. Today, I bring you one of them.
I'm a big fan of Blake Nelson, and I've offered my reviews of Destroy All Cars, Paranoid Park, and Recovery Road. So when he contacted me about a potential Twitterview a few months ago, it was hard not to do it right then. But I waited. And today I bring you an exciting interview with him. Blake may have been the first author to actually email me after a review — way back in 2009 — and it was one of those awesome blog moments that stuck with me. So, I'm giving away GIRL, PARANOID PARK, DESTROY ALL CARS, and RECOVERY ROAD to celebrate our 2-year blogging anniversary here at STACKED. I'll add that RECOVERY ROAD is also signed by Blake himself, who I had the pleasure of meeting during his stop in the area for Sister Spit (oh yes, photo evidence below). Here's your chance to sample Nelson's style which I have grown to appreciate more and more with each book of his I read.
But first — let's hear from him.
What influenced RECOVERY ROAD?
I did a school visit at a girls reform school. The girls were smart, interesting, unusual. I wanted to write about them.
Maddie ultimately recovers in the story, but she's the only one. Why did you make this choice?
The characters decide, not me. She was just sooo determined. That's what made the book: her ferocity.
As a reader, I found your setting a hugely important part of Maddie's story and know Portland is where your stories are usually set. Why?
The rainy gloom of Portland! It is in my soul … and it was perfect for this kind of love story.
GIRL, your first novel, has been in print for over 15 years now and it's a cult classic. Would you change anything about the book today?
No way! We love people because of their flaws. GIRL has many many flaws. But it still kicks ass!
Each of your books is entirely different — you don't fall into a single category. How do you make your style/voice decisions?
I feel sorry for series authors, writing the same thing over and over. Poor J.K. Rowling. I think I'll send her a card.
You successfully capture both male voices and female voices, giving your books wide appeal. Talk about the experience of writing each.
Girls think. Boys do. Girls analyze. Boys criticize. Girls think about people. Boys think about things.
Two of your books — PARANOID PARK and GIRL — have been made into films. Did both/either come out as you'd imagined?
It's always profoundly weird to see what your story looks like in someone else's brain. But after the shock, it's fun.
This spring, you're on the bus for the Sister Spit tour. How did you get involved with this?
They're GIRL fans, and SASSY freaks. I'm a big fan of their stuff. Michelle Tea is one of my heroes.
What influences your writing?
Hearing people talk about their lives. Watching teenagers. Thinking about being young.
Which of your books has been most meaningful to you and why?
Probably RECOVERY ROAD. It is my fullest, most complete book. Maddie changes so much. And it feels so real.
Of all your books, which character from which book would be closest to your heart and why?
I still love Andrea Marr. From GIRL. I would love to meet her now, fifteen years on, she's probably a librarian.
Same question as above, but this time tell us who is most like yourself?
Alex in PARANOID PARK: Clueless, funny, sometimes profound in an accidental way.
Given your career as a whole, if you could redo something in any of your books, would you?
No. I do TONS OF REWRITING, POLISHING and OBSESSING, so I know there's nothing really wrong with any of them.
You've seen the rise of YA in the last few years. What's changed in the time you've been publishing? Is it easier or harder now to write?
Too much trend-chasing. Someone yells "DYSTOPIA!!" and everyone runs to their computer and starts typing.
What is your writing routine?
Six hours, every day.
Best piece of writing advice ever received?
"Get rid of the little words"
Best piece of writing advice you've ever given?
"Maybe you should stick to acting, Gwyneth."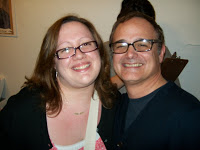 Who do you think is doing some of the most influential work in the YA world today?
Love Frank Portman. Love Natalie Standiford. And Sara Zarr. I like more realistic stuff.
What three books or writers would you consider the most influential to you and your career?
John Updike, F. Scott Fitzgerald, Henry Rollins
Like all authors for teens, you get letters from your readers. What was the most memorable thing someone has said to you about your work?
I love it when my books keep people company. Like a good friend. Kerouac does that for me.
Falling in love the first time. And having my whole psyche re-arranged by it.
What are three surprising things we should know about you outside of writing?
I was a teenaged redneck. In high school I played football, drove a pickup and hunted and fished on weekends.
And the most important question — favorite ice cream flavor?
chocolate!