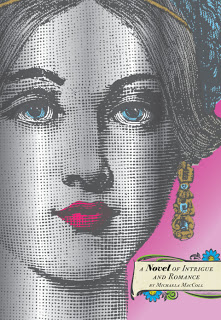 I dislike this cover rather intensely.
Michaela MacColl's debut novel,
Prisoners in the Palace
, is the best kind of historical fiction: it spins an interesting (even thrilling) story out of real-life events while still remaining true to those events. In so doing, it opens the reader's eyes to a part of history they might otherwise have overlooked.
Prisoners in the Palace sounds like it could be a story spun straight out of fiction. After her parents die in an accident, sixteen year old Elizabeth (Liza) must find a way to pay off her father's debt. Therefore, instead of making her debut in society as planned, she takes a position as lady's maid to the teenaged princess. The princess has been sheltered her whole life, living under the thumb of her mother and her unscrupulous advisor Sir John, who plots to steal the throne, rob the royal coffers, and seduce various and sundry maids. Liza is drawn into this intrigue and must help the princess secure her future position as queen while avoiding the detection of the villainous Sir John, who may have murderous tendencies.
That princess is Victoria, who would go on to become the longest-ruling monarch in England's history, and much of the events described by MacColl in the book actually happened, as detailed in her lengthy but fascinating Author's Note at the end.
There's more to Prisoners in the Palace than interesting history, though – it has an immensely likable protagonist and mixes in elements of a spy novel, an adventure novel, and a tiny bit of a romance novel too.
Much of what makes Liza so likable is that she is a very proactive character. Rather than allow things to just happen to her, she takes the initiative. She seizes the opportunity to be Victoria's lady's maid when she originally had a much different position in mind, and she concocts a plan to win Victoria over (and therefore perhaps re-gain some social status as thanks) by offering to spy for her. While she has some minor loyalties to other characters, and develops real friendships with some, it's clear she isn't swayed by them and can look out for herself. I love that in a protagonist.
Even though the ending of the story is never really in doubt, the journey there is immensely enjoyable. Reading
Prisoners in the Palace
is the same kind of fun as reading
Heist Society
and
Clarity
. All three books have feisty, capable female leads, a good bit of action and adventure, and some nice surprises. They've all got a similar lightweight tone, too, where not a whole lot seems at stake even though the characters are in some fairly serious situations.
Prisoners in the Palace is probably best for readers already interested in historical fiction, since the history is so important to the story, but even those just looking for a fun spy/adventure tale would find a lot to like here. It doesn't hurt that it involves a princess, a perennially popular component of almost any story for teenage girls (and that definitely includes me).
Sidenote: When I was a little girl I wanted to be a princess (not surprising) because I figured they would always have beautiful dresses. The descriptions of the dresses in this book are pretty great. I no longer want to be a princess, but I do still like reading about them.