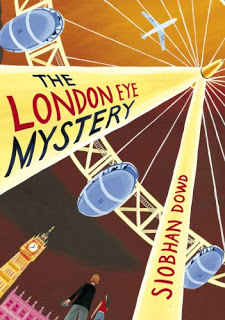 When Ted and Kat's cousin Salim comes to visit them in London, Ted immediately wants to take Salim on his favorite London attraction, the London Eye, a large bicycle wheel-like contraption with tiny pods for people to ride in, towering high over the city of London. Salim and his mother, Ted and Kat's Aunt Gloria, are visiting briefly, stopping over before their move from Manchester, England, to New York City. Ted, who struggles with a disorder on the autism spectrum (which is never labeled outright but is most likely Asperger's Syndrome), is excited to share the experience of The London Eye with Salim, as Salim's interest in him has immediately shot his cousin onto his list of friends, after his mom, dad, and his teacher. However, as the children are waiting in an excruciatingly long line to buy tickets, a man approaches them, claiming a case of claustrophobia and offering Salim his ticket for free. As Ted and Kat watch their cousin enter the London Eye and then track his pod throughout the precise thirty-minute ride, they are flummoxed when Salim doesn't exit the ride. As the adults contact the police, Ted and Kat team up to investigate what happened. Could their cousin have actually vanished into thin air? Since Ted's brain works differently than everyone's around him, he may just have an edge on figuring out the truth of his cousin's disappearance.
While I've been eying The London Eye Mystery ever since it came out in 2007, I often resisted picking it up, due to the recent publishing trend of protagonists with autism and Asperger's Disease, in which the plots often failed to distinguish themselves from each other for me. However, I am thrilled that I finally picked this book up on audio. Narrator Alex Kalajzic masterfully brings the voice of Ted to life. Ted is a well-rounded character, who is never solely defined by his "syndrome," as he calls it. He is 100% aware that he is different than other people, and often remarks upon the adjustments and observations that his teacher has instructed him to do: what different facial expressions denote, and when to smile at others. Yet he is still entirely himself, entirely focused on what makes him happy. Ted has an obsessive love for meteorology, listens to the shipping and weather forecast late at night to help him sleep, and thinks of weather patterns when he becomes anxious. Dowd often remarks upon the flapping motion that Ted's hand makes when he is feeling heavy emotion, a small detail that broke my heart while reading. Yet regardless of Ted's difficulty with emotions and physical contact, you can tell he still loves his family. He is excited to finally become 'friends' with Kat throughout their investigation, and he instantly bonds with Salim.
Besides Ted and Kat's evolving relationship, the family dynamics in The London Eye Mystery are also stellar, all of which Ted views with a detached eye. Ted's mom and Kat constantly clash, Aunt Gloria and her ex-husband Rashid have a typically antagonistic yet supportive relationship, and Ted's father is exasperated with Aunt Gloria. I also have to say that I never guessed exactly how Salim disappeared, although I did predict an aspect that would be involved (yes, I'm being quite vague here!). Dowd's mystery is compelling and smart, and the resolution is satisfying. It's incredibly sad that this talented author won't get the opportunity to provide us with more books.
While I'm sure I would have enjoyed The London Eye Mystery in print, narrator Alex Kalajzic's matter-of-fact yet warm tone truly drew me in to Ted's inner life. A wonderful listen!