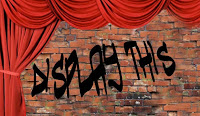 We're still making our way across the globe, and after stops in the Middle East and in Australia and New Zealand, we're going to Europe this week. There are so many books that fit — pages worth, in fact — so I'm limiting it down quite a bit to stuff that's fairly current and primarily not historical fiction. It seems as though most books set in European countries is historical, so it's impossible to avoid it and it does, without question, have appeal to readers. To further limit my choices, I'm using three books to any given country, since some countries like England and France could be displays all their own. I'll tell you which country the book's set in, and as always, I welcome your suggestion for countries that aren't represented. And if you'd like more books set in Europe, drop a line — I can share my length list with you.
Without further ado:
Anna and the French Kiss by Stephanie Perkins (France): Anna's got it fine at home, but her dad thinks she needs a new adventure and sends her overseas for her senior year of high school to the city of lights. Anna might be the only person in the world not thrilled to be spending a year in Paris, but a little romance might change her mind.
No and Me by Delphine de Vigan (France): Lou, who lives in Paris, is an extremely intelligent and slightly OCD girl whose school project on homelessness ends up making a huge impression on not just her assignment, but on her life as a whole.
Finding Lubchenko by Michael Simmons (France): Evan's been commissioned on a fast-paced, action-packed adventure in Paris to find a murderer.
The Boy Who Dared by Susan Campbell Bartoletti (Germany): When the Nazis begin outlawing anything that's not issued by them, one brave boy listens to an illegal radio and begins sharing the real news with other German citizens.
Ashes by Kathryn Lasky (Germany): Another story similar to Bartoletti's about the rise of power of the Nazis and the loss of rights of the German citizens. This time, the story focuses on 13-year-old Gabriella and the loss of her freedom to read what she wishes.
The Book Thief by Markus Zusak (Germany): A story of the Nazi uprising told through the eyes of Death. A modern classic.
Spain or Shine by Michelle Jellen (Spain): Another entry into the Students Across the Seven Seas series (which include books that do take place in a number of European countries). Elana feels like she's the lost child among her three overachieving siblings, but a semester in Spain might make her understand who she is a little bit better and understand the role she plays in her family.
Bog Child by Siobhan Dowd (Ireland): This historical mystery takes place in 1981, during the height of troubles in Ireland and Fergus loses his ability to concentrate on school exams with the discovery of a dead girl's body and his imprisoned brother's hunger strike.
Why I Let My Hair Grow Out by MaryRose Wood (Ireland): Morgan's boyfriend dumps her on the last day of school and to cheer herself up, she dies her hair orange and chops it all off. Her parents freak, and rather than ground her, they send her away to Ireland for the summer. During her time in Ireland, she learns a lot about herself and even a little bit about love.
Angus, Thongs, and Full Frontal Snogging by Louise Rennison (England): The hilarious first installment of the diary of 14-year-old Georgia Nicholson, wherein she talks about her nose, her cat, and a boy who makes her gaga.
The Knife That Killed Me by Anthony McGowan (England): Paul's been given a mission by his school's biggest bully, Roth. When this mission insights a fight, Paul wants nothing to do with it, but he discovers he's in deep — but he's also the one with immense power.
The Agency: A Spy in the House by Y. S. Lee (England): Mary Quinn, rescued from an orphanage, is sent to spy school to learn the tricks of the trade. Bonus: this one's set in Victorian London.
A Golden Web by Barbara Quick (Italy): Alessandra needs to escape the year-long imprisonment her stepmother has placed her under, but being a teen girl in 14th century Italy makes this a little challenging. But using her intelligence to guide her, she does more than simply escape. Based on the true story of anatomist Alessandra Giliani.
Girl at Sea by Maureen Johnson (Italy): Clio's not interested in being stuck on a boat in the Mediterranean during her summer, but this vacation might be one that has a huge impact on the future of her life. Oh, and there is a little romance, too.
Duchessina by Caroline Meyer (Italy): A fictional story of the life of Catherine de Medici. Even though she grew up in a wealthy family, her life was far from easy, especially when she becomes engaged to an aloof and cold boy.
Tamar by Mal Peet (Netherlands): This story about the discovery of one's heritage begins with a box to teen Tamar, who searches through it and through her country to learn about her grandfather, who played a big role in World War II.
Swede Dreams by Eva Apelquist (Sweden): Another entry in the Students Across the Seven Seas series, this time set in Sweden. Calista's time in Sweden promises to be exciting, especially since she can finally escape the constant piano playing noise of her cousin Suzanne. Calista's interested in boys, but the one with whom she's spending a lot of time with may be the one causing the most trouble.
Milkweed by Jerry Spinelli (Poland): Set in Nazi-occupied Warsaw, this story follows a boy who desires little more than to grow up to become a Nazi. But when he understands the atrocities imparted upon the Jewish people by the Nazis, he might have a change of heart.
iDrakula by Bekka Black (Romania): This modern day take on Dracula not only takes the vampire trope to a different level, but it also incorporates plenty of text messages, emails, and more atypical story telling devices.
The Musician's Daughter by Suzanne Dunlap (Austria): This historical mystery follows 15-year-old Theresa Maria in the aftermath of discovering her father dead on Christmas and his violin missing. Murder, romance, and music permeate this novel.
The Water Song by Suzanne Weyn (Belgium): A retelling of The Frog Prince.
A Field Guide for Heartbreakers by Kristen Tracey (Czech Republic): Dessy and Veronica end up in Prague with two very different missions — Dessy wants to dive head first into the creative writing workshop they signed up for while Veronica wants to dive head first into European boys. Who ends up ahead?
Revolver by Marcus Sedgwick (Finland): A knock on the door of 15-year-old Sig's home reveals Wolff — a guy who has some unfinished business with Sig's father. But the thing is, Sig's father's dead and the truth is that Sig may be the one with some unfinished business.
Goddess Boot Camp by Tera Lynn Childs (Greece): So not necessarily set in Greece, this story is the second in the series by Childs that sets Greek mythology in high school. If anyone has any suggestions for books set in Greece, share 'em. Lots of mythology, little set in the country itself.
Thief Eyes by Janni Lee Simner (Iceland): 16-year-old Haley's mother's disappeared, and she convinces her father they should go to Iceland to heal from the loss. During the healing, Haley meets a mysterious and gorgeous boy, as well as unravels a saga much deeper than she can imagine.
Between Shades of Gray by Ruta Sepetyas (Lithuania): A powerful story that begins in Lithuania and follows a family torn apart during World War II. Lina, her mother, and her brother are separated from their father, and sent to a labor camp in Siberia by Stalin while her father lives in a prison camp. It's a little known story — thanks Rachel, for clarifying, since I haven't read this one yet!
Sing Me to Sleep by Angela Morrison (Switzerland): In this story that transforms a "Beast" into a "Beauty," Beth's chosen to travel with her choir to Switzerland, where she meets a guy who causes her to question her best friend at home.