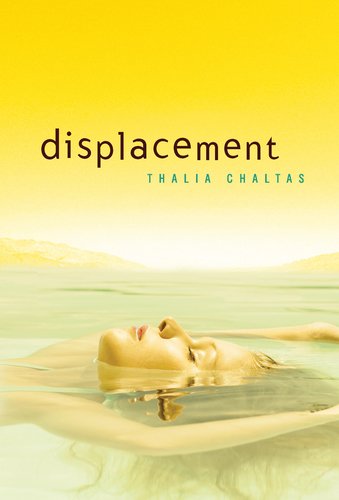 More than two years ago, I reviewed a little book by then debut author Thalia Chaltas titled Because I am Furniture. It's one of those books I still think about and one which I still recommend easily to those looking for a read alike to Ellen Hopkins. So when I discovered Chaltas would be releasing her sophomore effort, Displacement, this summer, I was excited to snag a copy at ALA Midwinter and dive in.
Something terrible happened in Vera's life. There's been a tragedy, and her family has been completely non-supportive of her life choices. She's at the end of high school and ready to change, ready to get away. No, make that, she knows she needs to get away from it all and figure out who she is and figure out where to go. The only way to get out from rock bottom is to look up.
So she leaves. She hitch hikes and ends up in the middle of a small desert town where she knows no one and no one knows her. She takes to talking to people in town, takes up residence in an abandoned home, and begins to unravel the secrets lurking beneath this desolate place. But the real question is will Vera ever find herself here? Can she be happy here? Or does her happiness reside where she doesn't believe it ever could?
Displacement, like Chaltas's first novel, is told in sparse verse form, though I don't believe this novel is quite as edgy as Because I am Furniture. It's a steady paced novel, and the verse form helps speed up the pacing a bit in some of the spots where there is little or no action at all. For me, the verse works fine, but that's because I found this book, on the whole, to be a little hard to connect with.
Vera, for me, has no voice of her own in this story. We know as readers going on that something has happened, and she drops hints at a loss she's recently experienced. But it never feels quite convincing. There's not enough of a back story and not enough investment on behalf of the reader to buy into Vera's running away from the onset to give her a real voice. Instead, she undulates much like the girl on the cover, and it's difficult to know whether we feel sorry for her or we don't (the girl is living in a house that doesn't belong to her in the sake of "finding herself," for one thing).
I didn't find myself engaged with Vera's struggle, and in fact, there were times I felt she wanted to push me the reader away. As a plot device to show how Vera feels, this works, but to the reader, it's off putting; if Vera doesn't give some hint of interest in letting us in, then the story can't go anywhere. Since this book is so driven by character, not finding a reason to care about Vera made it hard to be invested in her outcome. It also had me questioning whether verse really was as effective here as prose would have been. For me, voice is key for buying into a story — especially one that begins by a girl deciding to drop into a desert town to begin a new life — and the flatness of voice here made it weak.
The desert landscape and desolation, though, are palpable. Chaltas does a great job building place in this story, even if I didn't necessarily buy Vera's connection to it. The locals are believable, and I thought that they really added to the greater picture of this small desert town. There's a bit of dialect, but it works fine, and heightens the place building.
Overall, this book didn't impress me as much as Chaltas's first title, nor does it necessarily stand out among much of the stronger contemporary YA fiction out there. That said, those who read her first title will want to check this one out, and I think Ellen Hopkins fans may still find quite a bit to like here, especially when it comes to style and structure (and to a lesser extent, content, since there is edgy stuff included, of course). I wanted more of the plot, and I feel had this book given a little more at the beginning of the story, the ending would have been more powerful and Vera's voice could have been easier to parse from the story.
Displacement will be available June 7. Book picked up at ALA.