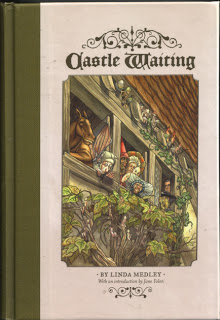 I first read Linda Medley's
Castle Waiting
graphic novel as part of an assignment in library school. It was the very first graphic novel/comic I had read in years (the last one before that was probably an issue of Casper when I wasn't even double digits). I wasn't averse to reading graphic novels, and I had long embraced the notion of having them in public libraries as practical and necessary, I just hadn't ever bothered to go find one I thought I would like.
I'm glad I chose Castle Waiting as my gateway drug. It has a lot of elements I really enjoy in a novel: fairy tales reworked in new and interesting ways, a strong female protagonist, humor, feminist themes, and some nice surprises in the plot. I revisited the book this week and was pleased to discover that I enjoyed it just as much the second time around.
Castle Waiting opens with what seems to be a fairly straightforward re-telling of Rapunzel. Near the end, it morphs into something different (there's a particularly funny set of wordless panels at this point), and we see that it's the origin story for the place known as "Castle Waiting," which has become a refuge for the weary and the imperiled. As one of the characters tells our protagonist later on, the castle provides sanctuary for those who need to live in safety or die in safety. When you consider the fact that the setting is a fairy tale world, it becomes easy to see how this story is a feminist one.
After the origin story, we're introduced to our protagonist, lovely young Jain, who's pregnant and on the run from her husband (not necessarily the father of her child). She's been told by her own father about Castle Waiting and its sanctuary, so she makes her way there. Once there, she's welcomed by its inhabitants, a diverse array of characters which Medley has plundered from the pages of nursery rhymes, legends, and fairy tales.
The second half of the book involves a group of bearded nuns. That's awesome enough in itself. I don't think this story is as strong as the one featuring Jain, but it's amusing and interesting nonetheless.
The emphasis in Castle Waiting is not on sword and sorcery, and there's not a great deal of action. Instead, Medley focuses completely on the characters, giving us vignettes without major climaxes that allow us to really get to know everyone. By the end of the book, they've become friends, and we wish we could visit for a weekend. There's nothing pulse-pounding about this comic, and sometimes that's exactly what people need.
All of the female characters (and the male ones) are independent and interesting. They've all got their own back stories and their own little quirks. A few of the characters are particularly funny, cracking jokes and seeing humor in everyday activities. While the characters' lives weren't necessarily rosy, they've all found a home at Castle Waiting, and the tone of the book reflects that sense of community.
Medley's art is all black and white, which I normally avoid (I prefer full-color), but it works here. Her linework is very detailed and helps give the story its sense of fun. The humor in the story comes not only from the dialogue between the characters, but in the reactions seen in facial expressions and body language.
Castle Waiting is basically a fairy tale (or rather, a series of fairy tale-esque stories) told with a feminist bent. It has similarities with Bill Willingham's Fables in that they both re-work traditional stories for a new audience and both center around a community of diverse characters who have found sanctuary with each other, but Castle Waiting is much different in tone. Whereas Fables is most definitely for an adult or mature teen audience (lots of violence and sex), Castle Waiting is more child-friendly. Its tone is a bit gentler and it doesn't have any of the content parents tend to object to: bad language, nudity, violence. That said, I think Castle Waiting is best appreciated by older teens and adults due to its themes, which younger readers may miss or simply not find interesting.
I first read Castle Waiting in individual volumes, but I got my hands on the compilation for the re-read (so the origin story, Jain's story, and the bearded nuns story were all together). Wow this book is beautiful. The spine has a cloth-type covering and it comes with a built-in ribbon bookmark. It's kind of ridiculous how much I love these ribbon bookmarks. The cover, the only part of the book in color, shows the characters the reader meets within the book's pages, and even the horse's personality is evident.
This review covers only Castle Waiting Volume I, but Volume II is out now, and it's sitting on my table ready to be read. I'm definitely looking forward to it.