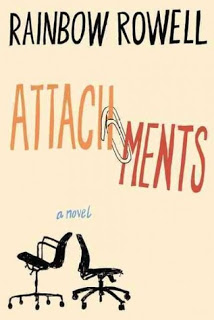 Lincoln didn't know what he was getting into when he responded to an ad for the local newspaper The Courier, which needed an Internet Security Officer. Yes, it was the night shift, but at least the job was full-time, with a good salary and benefits. And maybe it would finally give him some purpose while he figured out exactly what to do with his life: after all, he is in his twenties and has been a professional student since his horrible, traumatic breakup with his high school and college girlfriend, and he still lives at home with his mother (a fact that he himself doesn't mind, as she leaves him alone and cooks practically gourmet meals for him. But his sister Eve keeps nagging him to leave the nest, and maybe he does need a good kick in the butt).
But the job is definitely nothing like Lincoln expected…for one thing, there is literally nothing to do, no responsibilities except monitoring and reading emails flagged for 'objectionable content.' While Lincoln can't help but feel vaguely guilty at this intrusion into others' lives, he is simultaneously drawn into the lives of Jennifer and Beth, two bubbly best friends whose emails often find their way into his inbox. As they talk about their relationships (Jennifer is married, and she and her husband are trying to figure out when to have a baby, while Beth is in a long-term relationship with Chris, a rocker who can't truly commit), Beth and Jennifer become more than just email addresses on a computer screen to Lincoln. They become real, true, vulnerable human beings. And he can't help himself from falling for Beth.
Attachments was an absolutely adorable read, the perfect book to break me from a recent slump of 'meh' books. The format enabled this book to be a quick read, as Jennifer and Beth's side of the story is told solely through emails, and Lincoln's in short chapters of prose. Yet despite the brevity, Rowell truly excels at creating deep, well-rounded characters. Even through short snippets of email, the reader is able to feel Jennifer's excitement and grief over the developments of her marriage, and can empathize with Beth's immense frustration over Chris' flightiness. Lincoln is just plain adorable, a hulk of a man whose sensitivity, fear, and gradual transformation are shown to us vividly over the course of Attachments.
It is this transformation that is at the heart of Attachments, more so than the engaging antics of Jennifer and Beth. Rowell truly shows rather than tells the reader how Lincoln gradually finds himself throughout this novel, as he develops a crush on Beth the 'idea,' then discovers who she is, then is plagued with guilt about reading her personal thoughts and doesn't know how he can ever approach her 'in real life.'
While there isn't much suspense in this novel, as its sweet tone naturally assures the reader of a happy ending, the joy is in following these three characters on their journeys, both individually and collectively.