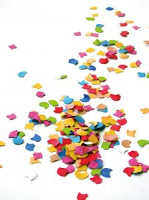 Happy Birthday to us! It's been two years since we kicked off STACKED and never did we think we'd be where we are now. So much has to do, of course, with the wonderful readers who not only read our thoughts but share theirs as well and then are kind enough to spread our words out even further. Amazing.
We thought we'd use this as an opportunity to share the fascinating things we as bloggers discover when we look at our blog from the last two years. We thought we'd give you a glimpse into what the most popular posts are statistically. We're also going to share some of our favorite posts in hopes you can relive some of the fun with us.
Of course, no good blogoversary celebration would be complete without a giveaway. The thing is, you're going to have to wait for it. I would suspect that May 2 would be a good day to check for that — it's a big giveaway and an awesome interview we get to share with you.
But without further ado, here's a look back at two years of blogging, STACKED style:
Most viewed posts:
1. Texas Book Festival, 2010
2. Elixir by Hilary Duff
3. Tricks by Ellen Hopkins
4. One Cover Through Time
5. Guest Post: I Don't Care About Your Band by Julie Klausner
6. Ten Truths About Blogging
7. Riffs on the Tale – A Rant
8. KidLitCon 2010
9. Bone by Jeff Smith
10. Hardcover to Paperback: Big Changes
Our favorite posts (in no particular order):
1. Life on the Cybils YA Panel
2. Oh, Your Windswept Hair (which could be updated to add about a dozen more)
3. The Stormchasers by Jenna Blum (yep, an adult book review)
4. Where Have All the Fat Girls Gone?
5. Typography and reading (Kelly's geek obsession)
6.
Ten Truths About Blogging
7.
Sweet Valley Confidential by Francine Pascal
(Jen's first truly snarky review)
8.
Our Childhood Favorites
(waxing nostalgic always makes Kim happy)
9.
The True Meaning of Smekday by Adam Rex
(mostly because Kim got a chance to use the phrase "pink squishable gapputty," and this book is awesome)
10.
Wither by Lauren DeStefano
(Kim's favorite mostly critical review)
Things we've come to love about blogging:
1. Meeting people! We've met, both online and in person, some incredible bloggers, publicists, and authors. Little is more exciting than putting a face to a name of someone you email with, someone you Tweet with, or someone who writes the books you love.
2. It's always funny. Book blogging comes with drama, but we like to think we see of it more as amusement than something with which to get involved. We do our thing our way and we always will.
3. It is a productive and creative outlet. Some days, it gets frustrating and some weeks it feels like we have nothing to post about. But then there are days where writing up seven posts comes in a couple hours. It's nice to pour that energy into something.
4. Conversation. Whether in comment threads or on Twitter, book blogging has started some of the most spirited, fascinating, and opinionated conversations we've recently been a part of. Bloggers and readers have such strong opinions about writing, characters, and plot, and we're honored to be able to share in it.
5. Professional Development. As librarians, being able to be up on recently published books and the trends of YA, adult, and children's lit is invaluable. Discussing what works and what doesn't work in books, along with which population novels work for, is immensely helpful for us in our day jobs.
6. Finding out more about books than we ever would have otherwise. Writing a blog has brought with it a natural affinity to read more blogs (I know, shocking), and as a result, we've discovered books we never would have read otherwise (and have shared the love in turn here at STACKED).
Once again, we'd just like to thank everyone for tuning in these past two years. It's been a treat, and we hope you'll keep reading for many more years to come. And don't forget to check back on May 2 for our awesome anniversary giveaway.