It's probably a good idea when you market a book for teens that the cover image not feature things that teens can't do — so, having someone drinking on the cover isn't usually a good idea. Neither is smoking.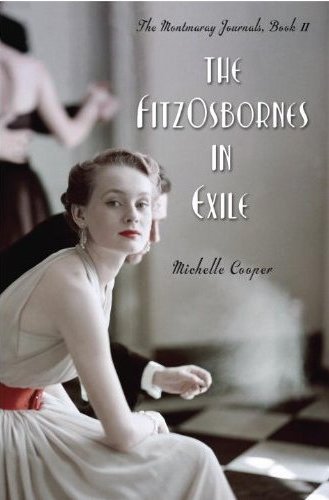 When I first saw the cover for Michelle Cooper's The FitzOsbornes in Exile, I knew something funny was going on. You can see the puff of smoke, but if you look closely, the male's clearly had something photoshopped out of his fingers. Why the cloud of smoke remains, I'm not sure. It looks sort of silly to be there, since it's obvious why it's there, even if the cigarette is not.
I've read this book, and I'm not sure I care for the cover. The girl on it looks way older than teen age, and this book is set in the late 1930s. Although the feeling sort of fits that era, the cover models look too old. I like the feel of the black and white with a pop of red, and I think that the title and author's name are well placed. The other thing I like about this cover is that there is no blurb on it; I'm not a fan of them on the front covers of books, and so not seeing one is kind of a welcomed sight.
Then I saw its double:
There's the cigarette! There's also another guy in this cover, as well as the statue, since the image used for Cooper's book is zoomed in tightly. What's strange to me in this use of the image is that everything is still in black and white (with the pop of red) but the guy kneeling is not. He's still got his natural peach toned skin. It feels sort of strange. I'm also not feeling the strange font use for the title — why are consequences and heart bigger than of and the, as well as italicized? — but I get why it couldn't be placed higher on the image, since the statue is in the way. I'm not a fan of the blurb on the top. It feels as though the title, author's name, and the blurb are competing with the image on the front, rather than working with it.
Cunningham's cover isn't for a new book, either: this is a paperback rerelease of a title published in 2000. It's marketed for the adult reading audience. I think that, despite the strange photoshop effort and the fact it doesn't really "fit" the story, Cooper's cover does the image more justice.
What do you think? Have you read either one and have a thought of whether it fits?