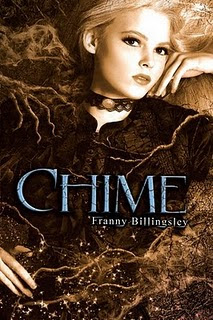 I think the best word I could use to describe Franny Billingsley's
Chime
is "odd." It's a very different sort of fantasy written in a very different sort of way. I do think it's well done, but it's going to appeal to a specific kind of reader – a patient reader who enjoys leisurely stories and takes the time to absorb the writing style.
To be honest, it'd difficult for me to explain exactly what this book is about. It doesn't have an easy plot that can be summed up in a few snappy lines. Briony is a teenager and lives in Swampsea, which is (I believe) supposed to be somewhere in England. Swampsea is built on a swamp (obviously), and the town leaders have decided to drain the swamp to improve the economy of the city and the standard of living of its inhabitants. Evidently swamps aren't great places to live.
The Old Ones, supernatural-type beings with names like Mucky Face and Boggy Mun, have a problem with this swamp-draining idea. The swamp is their home and they'd like it to remain as it is. The Old Ones inflict the swamp cough, an incurable disease, on Swampsea's inhabitants on a whim, and one of the cough's victims happens to be Briony's odd twin sister Rose.
Brought into this mix are the Chime Child and the idea of witches. The Chime Child is a person born at the stroke of midnight who can determine whether a person is a witch (in this world, witch=bad). And she's not always correct. I suppose everyone makes mistakes.
The book opens with Briony telling the reader that she's a witch and deserves to be hanged. The rest of the book involves Briony telling us what led up to her arrest – she believes she's responsible for her sister Rose's mental condition as well as a massive wave that injured her stepmother's spine and eventually led to her death. (This is all revealed very early on, so don't worry that I'm spoiling it for you.) Briony has a lot of self-hatred, and this permeates the entire novel. It can get a bit depressing, but it's not surprising considering what Briony believes she has done.
And there's a boy. Of course there is a boy.
So, have you got all that? And that's not even half of the weird stuff going on in Chime. There are so many elements at play, a reader has really got to be patient and wait for it all to fall in place at the end. Patience is also required for the writing style. Billingsley's writing is heavy on metaphors, particularly odd metaphors you wouldn't have considered before. She also uses some really quirky phrases that add to the mood of the book, but also cause the reader to do a double-take at times. Instead of being drawn further into the story by the writing style, it made me feel further removed. It also made for a very long read – make no mistake, this is a slow-moving book.
Most times when I review a book I didn't particularly care for, such as in the case of Chime, I have something fairly critical (but valid) to say about it. Usually it's mediocre writing, flat characters, or a nonsensical or boring plot. In many of these cases, the book can still be enjoyed if one is willing to overlook these factors. In the case of Chime, however, I don't have anything specific in mind to criticize – it simply isn't my cup of tea. It's slow, certainly, and it's the weirdest book I've read in a long time, but these can also be strengths for the right reader. Billingsley was going for a particular mood and she achieved it – it's just not one that really appealed to me.
Copy checked out from my local library.