For your Friday reading pleasure, a few of my current reads and my thoughts on each thus far: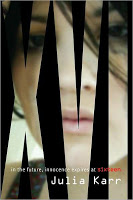 XVI by Julia Karr
The jacket synopsis led me to think this book would be a clumsy attempt to make a statement about our over-sexed culture. Protagonist Nina lives in a future where girls get a tattoo at age sixteen designating them as legal to engage in sexual activity. So not my thing to read about. But I can't resist the siren call of a dystopia, so I checked it out anyway. And I've been pleasantly surprised so far – while the "sex-teen" aspect is a major thread, the plot is much more focused on Nina's family and their potential involvement in an underground movement dedicated to toppling the government. There's a lot of made up slang and abbreviations, which I actually like a lot here. It reminds me a little of Biting the Sun and Feed in that regard. There's also major world-building, and you all know how much I crave that. Lastly, and most pleasantly for me, the plot is leading up to a major reveal about the dystopian world. That was always what I loved most about dystopias as a teen and it hasn't been present in most of the dystopias I've read as an adult (think Hunger Games, Wither, Across the Universe, Delirium – a few surprises, yes, but not on the scale of The Giver). I'm eager to finish this one and see if the reveal is worthy of my admiration.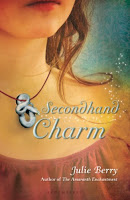 Secondhand Charm by Julie Berry
Kelly's already reviewed this one
here
. As a fantasy lover (and lover may actually be an understatement in this case), I'm always interested to see what non-fantasy lovers like about the fantasy books they recommend. That's the main reason I decided to pick up this one. So far, I dig the fact that the story is set in a completely different world – I've read too many fantasies that are set in our world with magical elements sprinkled in. Reading fantasy can be a great escape, and this one appears to fit the bill.
And speaking of stories set in our world with magical elements sprinkled in…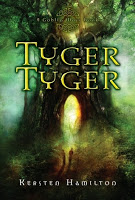 Tyger Tyger by Kersten Hamilton
I'm still not sure why I checked this one out. The cover is really pretty, but that's usually not enough to convince me to give it a shot. I think I was drawn to it due to its unusual mythology. Teenage Teagan is seeing goblins. Finn Mac Cumhaill, her family's mysterious visitor from her mother's adoptive family of Irish travelers, warns her about them and tells her the sidhe follow him wherever he goes. Danger and adventure ensue. It's not bad, but it's also not a pageturner for me.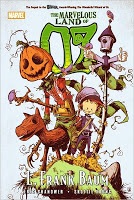 The Marvelous Land of Oz adapted by Eric Shanower
I loved Eric Shanower's adaptation of the first Oz book, The Wonderful Wizard of Oz, and am loving the second book in the series just as much. It's no surprise, considering my love for Oz in general. I'm familiar with Shanower's illustrations from The Wicked Witch of Oz by Rachel Cosgrove Payes, but hadn't had a chance to read his writing before. His adaptations of the books remain true to the originals, restoring a lot of the elements omitted from or changed for the movie (silver shoes, the Good Witch of the North's kiss). I like Skottie Young's illustrations a lot, but I admit that I would have preferred Shanower's (the first installment gives the reader a few examples of Shanower's artistic interpretations of the characters). I'm pleased that the duo intend to bring all of Baum's Oz books into a graphic format.