Kick back this Friday with another double take, and this one calls for celebration. I mean, whoever said you can't drink champagne from a straw?

The Celebutantes by Amanda Goldberg and Ruthanna Khalighi Hopper was published in 2008 by St. Martin's Griffin. This lady's drinking from two straws. I love the way the red lips pop on this cover.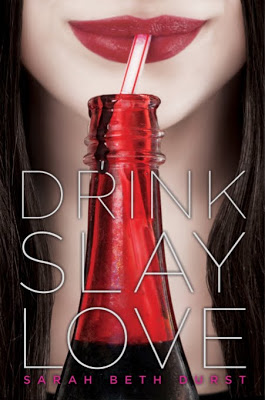 Drink Slay Love by Sarah Beth Durst will be published in September by Margaret McElderry/Simon and Schuster. This book's about a vampire attacked by a were-unicorn (I'm sold!). The cover model on this one isn't the same as the book above, but the set up and execution are darn similar.
I like both of these, with the slight advantage to Drink Slay Love only because I like the way the red pops against the pale skin coloring. Also: she's drinking with a soda straw that has a red line on it and all. Classy!
Do you prefer one to the other?