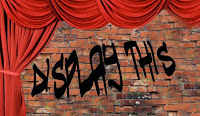 It's early to be thinking about it, but actually, according to The Numerati by Stephen Baker*, Prom Madness begins in January. Dress sales surge at this time of the year. Might be worth considering getting your kids geared up for the trials and tribulations that come with what is heralded as one of the landmark high school events: Prom.
There's been a surge of prom books lately, so here's a taste of what's new and what's classic in the world of prom lit.
Prom and Prejudice by Elizabeth Eulberg: A remake of the Jane Austen classic Pride and prejudice set in high school and prom plays a big part in the making or breaking of a romance.
Will Work for Prom Dress by Aimee Ferris: This one's about a girl who has to — you guess it — work to make the money to get her dress. Bonus for Ferris's book is this rockin' website where different authors have shared their prom photos and stories. I sense this has potential for additional displays.
Prom by Laurie Halse Anderson: Even though Ashley has no interest in attending prom, she might end up being the one coordinating the whole thing, whether she likes it or not.
Top Ten Uses for an Unworn Prom Dress by Tina Ferrero: Nicolette was dumped before prom and now all she has to show for it is a dress. What's a girl to do?
Prom Anonymous by Blake Nelson: Chloe's going to prom, even though she doesn't have a date. Will things with her best friends make this a most memorable night for good reasons or bad ones?
Prom Kings and Drama Queens by Dorian Cirrone: Can Emily channel the energy and power of a hurricane sharing her name her senior year of high school? She'll sure give it a shot. And maybe she'll finally get a chance with her biggest crush.
21 Proms: This collection of stories share the highs and lows of prom night. It's by a ton of big name authors.
Prom Nights from Hell: Another collection of short stories, but this one is much less on the realistic dramas of prom and more on the horror and paranormal prom tales.
Prom Dates from Hell by Rosemary Clement-Moore: This installment of the Maggie Quinn series showcases girl wonder battling the evils of high school prom.
Once Upon a Prom series by Jeanine Le Ny: This is a three book series that tells the story of prom from three different girls' perspectives. And here's an awesome display idea — when you stack the three books, you have a whole girl (book 2 is her body and book 3 are her shoes). Get your display set up a little differently with this one.
Perfectly Dateless by Kristin Billerbeck: Daisy's got a countdown of the days left till prom. But with her parents' strict rules about not dating, will she even get to go? This is a clean read and I believe has a bit of a Christian bent, too, for those who enjoy that genre.
Fat Hoochie Prom Queen by Nico Medina: An all-out brawl-out for who gets to be queen of the prom.
How I Created My Perfect Prom Date by Todd Strasser: This is an alternating perspective story, told through the eyes of the newly popular Nicole and her prom-date-to-be (maybe!) Chase.
Prom Crashers by Erin Downing: Emily falls in love with Ethan. . .then promptly loses his phone number and can't track him down. She and a group of her friends get busy seeking him out — on prom night of all nights!
This is just a sampling of the number of prom books out there. If you know of any others, share them in the comments. I'd love to see more books with this theme that talk about alternates to prom in a positive light — for the girls and guys who purposely choose not to attend prom and don't regret it. And maybe those who got a lot of flack about it, too.
* I've mentioned how I read a lot of non-fiction, right? And a lot of it is super niche? This one is about numbers and statistics. And I LOVED every bit of it.