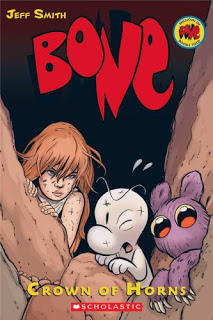 Thorn & Fone Bone are a little worse for wear.
Bone
is such an important comic book series for kids, but I had never heard of it until I started my job a little over a year ago. It's immensely popular – I saw so many kids check out the volumes, we had many copies that ended up lost or missing (always a sign of popularity), and even the library-bound copies are in rough shape due to heavy use.
The covers are inviting and the raves on the inside promise a classic read. So naturally, I put myself on the hold list for
Bone Volume 1: Out From Boneville
and waited patiently. Eventually, I got my hands on a copy and was immediately drawn into the story.
Fone Bone, Phoney Bone, and Smiley Bone are three Bone cousins who have been kicked out of their hometown, Boneville, due to Phoney Bone's con man ways (he routinely tricks the people of Boneville out of their gold and the townspeople had enough of it). The Bone people are beings that resemble marshmallow-colored smurfs, but the three featured in the comics are easy to tell apart. Phoney Bone is the sinister-looking trickster; Smiley Bone is the tall, goofy, good-natured one; and Fone Bone is the brave, sensible one, which also means he is our protagonist.
After being run out of Boneville, the Bone cousins find themselves in a strange valley inhabited by humans, fearsome rat creatures, dragons who may or may not exist, and a talking bug named Ted, among other beings. They are soon taken in by a kind (and beautiful) young woman named Thorn and her ornery grandmother, Gran'ma Ben.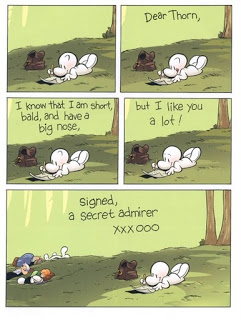 Fone Bone is so adorable.
Bone is a delightful mix of humor, action, and real emotion. I appreciated the recurring gags Smith included throughout. (Fone Bone's favorite book is Moby Dick, and whenever he reads it aloud, the people surrounding him immediately fall asleep; the two main rat creatures are obsessed with quiche and frequently threaten to cook the Bone cousins into one; and so on). Phoney Bone has a new plan to swindle the people of the valley each volume, and Fone Bone falls increasingly in love with the lovely Thorn.
The series isn't just a string of misadventures caused by Phoney Bone and his cousins. Underlying the amusing hijinks is a thread of danger and a complex mythology. They're living in a fantasy world, after all, so there's plenty of magic and a good dose of mystery. Gran'ma Ben has secrets – secrets that involve her granddaughter Thorn – and before long, the Bone cousins are caught up in it. The fate of the entire valley depends on their actions.
Like any comic book series, some volumes are better than others. (I felt the fifth volume in particular dragged. Most of it centered around a mountain lion named Roque Ja who wasn't as funny as Smith intended him to be.) But they're never not entertaining, and the art is consistently a treat. Smith's artwork is cartoony without being too exaggerated. Each character is distinct, the colors are bold and attractive to the eye, and facial expressions are easily read (and frequently hilarious).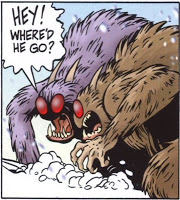 The rat creatures have missed out on a delicious quiche.
I finished the ninth and final volume,
Crown of Horns
, two nights ago and was not disappointed. Smith wrapped up all of the plotlines believably, gave the reader a solid conclusion, and still left me wanting more. Fortunately, there
is
more! Smith and his cohorts have written two prequels and a companion novel. I'm interested to see if the novel gets any use at the library. (Sidenote: Would you shelve it with the graphic novels or the juvenile fiction?)
I think Bone is that rare comic book series that appeals to comics fans as well as newbies. It's got wide appeal: reluctant readers will be drawn in by the bright illustrations and great humor, while more sophisticated readers will appreciate the complex mythology and main plotline about Gran'ma Ben and Thorn. Even readers who are unable to grasp the full meaning of the plot will be entertained by the antics of Phoney and Smiley Bone.
If you've yet to pick up this series, do yourself a favor and see what the kids love so much. Bone is a great example of what kid lit should be: fun, funny, and meaningful.