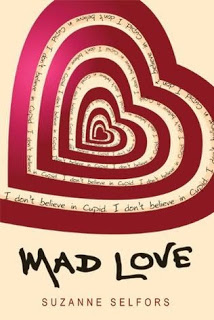 When you're the daughter of the bestselling Queen of Romance, life should be pretty good. But 16-year-old Alice Amorous has been living a lie ever since her mother was secretly hospitalized for mental illness. After putting on a brave front for months, time is running out. The next book is overdue, and the Queen can't write it. Alice needs a story for her mother—and she needs one fast.
That's when she meets Errol, a strange boy who claims to be Cupid, who insists that Alice write about the greatest love story in history: his tragic relationship with Psyche. As Alice begins to hear Errol's voice in her head and see things she can't explain, she must face the truth—that she's either inherited her mother's madness, or Errol is for real.
Summary from Goodreads
Mad Love was a quick, enjoyable read that simultaneously managed to be light while also covering the fairly heavy topic of mental illness. While some young adult books of late have covered the subject of mental illness in a main character, the mental illness of a close family member–and the ramifications of this illness–has not been seen as often.
Alice is a well-developed, three-dimensional character. She worries about her mother's health and about how to support her family and keep their finances on track. Even though Alice never truly interacts with her mother until the novel's conclusion, we witness her deep love for family in her inner monologues, actions, and visits to her mother's mental health facility. Yet at the same time as she struggles with these unique problems, we see Alice deal with the same feelings that many adolescents have: she crushes on Tony, a boy in town who skateboards past her window every morning, and constantly fights with Realm, another girl living in her building whose goth tendencies and pushy "read my manuscript and get it published" pleadings get on Alice's last nerve. Alice also harbors deep fears that she herself will develop bipolar disorder and that this so-called Cupid who appears in front of her is irrefutable evidence of her own mental illness. Her moments of panic are realistic and vivid.
Another plus of Mad Love was the fantastic supporting cast of "family-friends," the other people who live in the house that Alice's mother owns, who rent out rooms and serve as a surrogate family for Alice. Mrs. Bobot and Reverend Ruttle obviously care for Alice, and it is refreshing to see such an extended family in a YA novel.
As a whole, the book was enjoyable. However, many aspects just didn't quite work for me, most notably Errol. For a character who was supposed to be Cupid himself, the embodiment of love, Errol the boy never seemed to be fully realized. He was too quiet, too moody, too loath to reveal crucial information, both to Alice herself and to the reader. While this reticence was partially explained by the plot, Errol's personality really got in the way of my enjoyment of his character and his character's relationship with Alice.
The first part of Mad Love also dragged a bit, as Alice took way too long to believe Errol's story and agree to help him with his memoirs. This "buying in" was crucial to the plot, and holding back Alice's realization and belief for so long really slowed down the novel's momentum.
Ultimately, however, I did enjoy Mad Love. It was a quick, slightly fluffy read that was perfect for both pre- and post- Valentine's Day. It was also incredibly refreshing to see bipolar disease presented as something that can be conquered and that is nothing to be ashamed of.
Review copy provided by publisher.