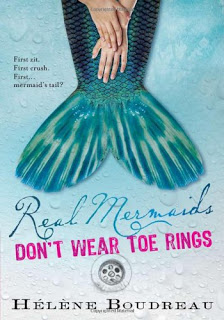 Jade is 13 years old and has just gotten her period, right in the middle of a department store changing room. She thought that trying to find the perfect bathing suit for her best friend Cori's pool party was bad enough, but this takes trauma to a whole new level. And, of course, due to embarrassment over her late blooming, Jade had lied to Cori years earlier about already getting her period. So the only person she can talk to about everything is her father, who's already overprotective due to the sad death of Jade's mother by drowning the previous year. Which leads to Jade's father careening down the aisle of the drugstore, cart filled with every sanitary product imaginable—right in front of Luke, Jade's crush. Could life get any worse?
Well…yes. A few hours later, while relaxing in a bath with Epsom salts to help her painful cramps–Jade suddenly sprouts a tail. A real, live, holy-crap-I'm-a-mermaid??? tail.
Jade soon discovers that her mother was also a mermaid, and her parents were just waiting to see if Jade would show any 'symptoms' someday. But if her mother was a mermaid, that begs the question: How could a mermaid drown? Upon investigation, Jade soon discovers an entire world of mermaids in the waters around her coastal town, both friend and foe.
Real Mermaids Don't Wear Toe Rings was absolutely adorable. I think that mermaids may be the one type of paranormal novel that I have not yet burnt out on. While many aspects of this novel were fantastical, Boudreau grounds the more far-fetched aspects of the story in the protagonist, Jade, an utterly realistic thirteen year old dealing with everyday issues: getting her period, crushing on a seemingly unattainable boy, struggling with body image, and feeling insanely guilty for not being able to tell ANYONE the biggest secret of her life. Jade is self-conscious about her body and worried about acceptance, timid with boys yet utterly at home with her friends. Also, it is wonderful to see a character who worries about her stomach and her thighs without having these worries take over her entire life. She is also close with her father, who is both dealing with the aftermath of his wife's death while struggling with being a single parents. Jade's father is overwhelmingly supportive without being overbearing.
The portrayal of Jade and Cori's friendship is also utterly refreshing. Cori is a three-dimensional character who is slighted when Jade distances herself after the big discovery. Cori's reactions and emotions are utterly believable, but it is also wonderful to see how she stands by Jade in the end. Boudreau infuses this friendship with realism and the small details that truly bring these characters to life.
The author creates a rich, unique mermaid mythology in Real Mermaids Don't Wear Toe Rings, not content to simply use the traditional 'palace under the sea' tale that we see so often. The details of Jade's transformation and her mother's heritage are explained well and fully, and the mermaid creatures living in the waters around Jade's town have their own twist, as well. In a far-fetched tale such as this one, water-tight details help to make the unbelievable believable.
This was a fun, quick read that left me with a smile on my face. While this book would most likely appeal to a middle grade audience, the lower end of YA would also enjoy it. I would of course hand this to fans of Tera Lynn Child's Forgive My Fins, but a readalike more similar in tone would definitely be Erin Dionne's Models Don't Eat Chocolate Cookies.