Obscured or cropped images of girls on the covers of YA books is no new trend, but I've noticed a different sort of twist on the idea on a couple of covers lately.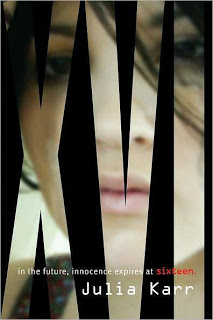 XVI by Julia Karr
Delirium by Lauren Oliver
Both of these covers seem to have two layers of images, where the top layer consists of a solid color, which is then partially carved away to spell out the title as well as reveal an image of a girl in the bottom layer. The technique makes the girl do double-duty: she's a snippet of the protagonist (we assume) as well as the way we read the title. Additionally, both of these books are dystopias and both are published around the same time (Delirium on February 1 and XVI on January 6).
I'm almost positive I've seen other books with similar cover designs. What do you think – eye-catching or not?