In my mailbox (IMM) is a weekly meme started by Kristi of The Story Siren. It's a weekly look at the books received for review, purchased, or picked up at the library. Although she's not "officially" running it this week, I picked up a few books I'd like to keep record of anyway — for me, IMM is about thanking the publishers and authors for their books, as well as keeping a record of what's coming up the pipes.
For review:
Will Work for Prom Dress by Aimee Ferris: Looks like a cute, lighthearted story.
The Princess of Las Pulgas by C. Lee McKenzie: A story about a girl who loses her father, then her home, then her school. It looks a little unrealistic/overdramatic to me.
Addicted to Her by Janet Nichols Lynch: A Cybils book.
Trapped by Michael Northrop: I am so jazzed about this one. Let's add up all the reasons why – snowpocalypse (I relate), teens stuck together in a small area from different backgrounds (ala The Breakfast Club) and the need to survive through it.
Purchased: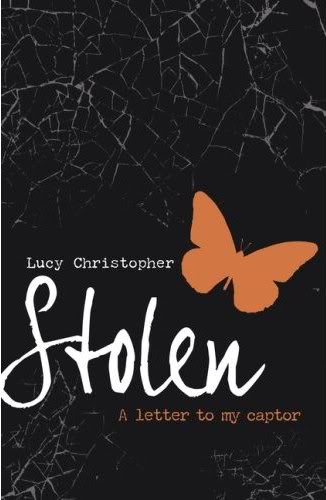 Stolen by Lucy Christopher: You've read my review. I really wanted to own a copy to reread this one, and immediately upon buying it, I lent it to a friend.
Other:
I got my book blogger holiday swap gift. It took me forever to figure out who the gift was from but I got it — thanks to Martha at Reviews at Martha's Bookshelf!
When the Stars Go Blue by Caridad Ferrer: I have this one already, actually, and I'm reading it now in order to talk it to my 9th graders. I really dig it, and I cannot wait to give this copy away in February.
Songs for a Teenage Nomad by Kim Culbertson: A runaway mother, music, and romance in this one. It looks a little bit like Sorta Like a Rockstar in plot, which I can dig.
Martha also sent some swag which I plan on passing to the teens at my library. Thank you!