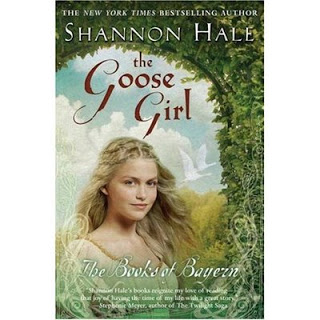 She can whisper to horses and communicate with birds, but the crown princess Ani has a difficult time finding her place in the royal family and measuring up to her imperial mother. When she is shipped off to a neighboring kingdom as a bride, her scheming entourage mounts a bloody mutiny to replace her with a jealous lady-in-waiting, Selia, and to allow an inner circle of guards more power in the new land. Barely escaping with her life, Ani disguises herself as a goose girl and wanders on the royal estate. Does she have the pluck to reclaim her rightful place?
Summary from Goodreads
While I have read a few books by Shannon Hale before (Book of a Thousand Days and Austenland), I was truly blown away by The Goose Girl. Hale took a simple Brothers Grimm fairy tale, and created a fully realized world around that structure, truly making it her own.
Shannon Hale's writing is lush and gorgeous, filled with stunning, vivid descriptions. Both Kildenree and Bayern become vivid, real places under her pen, and the simplest descriptions of forest trees or flowers bloom to life. On multiple occasions through the course of this audiobook, I actually stopped, paused my iPod, and thought over the phrase that I had just heard, marveling how a simple decision of word choice and word order managed to paint such a scene in my mind.
I wish I had read this book when I was in middle school. Ani is a strong, determined female character, one who saves two kingdoms from war and also manages to thwart a cadre of men and a devious 'friend' scheming to take her life. Yet she's unsure of herself, shaky in her self-belief, and not at all confident that her meager powers are enough to allow her to either fit in or triumph over the forces pushing against her. It is quite refreshing to witness a character express that lack of confidence and to see a loner gradually opening up to people around her and finding a place in a world that welcomes her, exactly as she is. The fourteen year old me who was so anxious about acceptance would have found a kindred spirit in Ani.
One of Hale's strengths in this book is pacing, as the action never drags, yet we still witness quiet moments of Ani settling in, exploring, and finding her place in her new environment and new role as a Goose Girl. On the surface, the plot of this books seems as if it should be so simple: Mutiny occurs, Ani becomes a Goose Girl, Ani regains her crown. As easy as one, two, three. Yet so much more happens within the lines of this novel, as twists and turns, complications and missteps occur, leading Ani to test her strength in new ways and to form new relationships. In addition to Ani, the supporting characters are quite well-developed and three-dimensional. I was especially impressed with the character of Conrad, the Goose Boy whose jealousy of Ani's popularity with the fellow child laborers leads to unforeseen consequences. This character could so easily have slipped into the token antagonist role, yet Hale managed to make his motives complex and relatable. The villians, most notably Selia and Ungolad, are menacing, yet appear in the flesh rarely. Hale uses the threat of their plots and Ani's fear to great effect, creating a sense of foreboding throughout the story.
The Goose Girl was my first experience with an audiobook produced by Full Cast Audio, which used multiple actors to play various roles, rather than just one narrator taking on the voices of all the novel's characters. The result is a lush, fully realized production that feels more like hearing a stage production of a story than listening to an audiobook. The music is interspersed at the perfect moments, with lilting tunes accompanying Ani's communion with nature and animals, and tones of foreboding announcing the approach of danger. The main narrator Cynthia Bishop's voice is authoritative and commanding, grabbing the listener's attention and blazing a path through Hale's tale. Erica Lustig, the voice of Ani, has a sweet, melodious voice, one that seems ideal for communication with both nature and animals. Her intonation, while slightly timid, is able to gain enough strength to depict Ani's transformation in the last half of the novel. I was also impressed with the work of Emily Holgate, the voice of Enna. Holgate perfectly portrays the strong, assertive character whose support and friendship gives Ani the courage to forge ahead and the acceptance to be herself.
I am looking forward to continuing with the next book in Shannon Hale's Books of Bayern series, Enna Burning. I would hand this to fans of Robin McKinley, Tamora Pierce, or Gail Carson Levine.