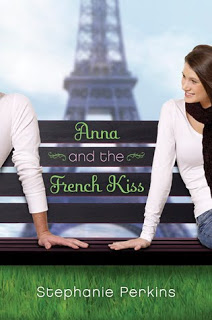 Anna Oliphant is on the cusp of her senior year, psyched for new experiences with her best friend Bridget and Topher, her cute-as-anything coworker at the local movie theater who she's almost-kinda-sorta-sure likes her. However, when her father, a wildly popular novelist (a la Nicholas Sparks) decides that she would benefit from a year abroad in France, Anna is not happy to be enrolled at SOAP, the School of America in Paris. However, her anxiety and homesickness soon disappear when she meets a group of friends, including the wonderful Etienne St. Clair. There's just one problem–he's taken, in a long-term relationship with Ellie, who graduated from SOAP the year before. However, as Anna slowly gets to know Etienne and the two help each other through respective crises, their friendship slowly flirts with romance and the two circle ever nearer to each other.
Anna and the French Kiss came loaded with hype, with gushing reviews and adoring words. When I picked it up, I was doubtful, unsure of whether any book could truly merit the love floating around in the blogosphere. But, reader, I was wrong. There are no signs whatsover that this is Stephanie Perkins' debut novel. The woman can write relationships, can choose the perfect phrase to depict that first spark of a crush and the quippiest dialogue to show flirtation. The attraction between Anna and Etienne is sizzling, yet not in a corny way.
Another thing I very much appreciated about
Anna and the French Kiss
is that the characters were human. There are no Mary Sues, no idealization of either of the main characters. Perkins fleshes out her characters, making both Anna and Etienne flawed…human. Teenagers. Their pride, jealousy, misunderstandings constantly get in the way of them being with each other and cause hurt and harm to others. But all of this is written realistically, in a way that echoes what happens in real life. As predictable as the storyline is in some ways, it also rings utterly true. Even their physical appearances break slightly from the norm–Anna has a white streak in her hair, while Etienne is short, with crooked teeth, not tall and dashing.
And the characters grow and change throughout the novel, a key element for me when reading YA fiction. There is a deliberate progression with Anna and Etienne from casual friends to best friends to "will they or won't they." The reader witnesses Anna growing more confident in herself and in the fact that she does belong in this new, foreign environment. We see Etienne faltering, then growing stronger with the support of his friends. Along with the relationship between Anna and Etienne, Stephanie Perkins provides a nice, three-dimensional cast of supporting characters. There's Meredith, Anna's best new female friend and next door neighbor, a tomboy who also has a crush on St. Clair. There's Rashmi and Josh, a boyfriend and girlfriend in a slightly tumultuous and fiery relationship. And there's Bridget, Anna's best friend from home who she feels herself growing slowly apart from.
And you can NEVER go wrong with Paris as a setting. Speaking as an adult, I initially was flabbergasted as to why Anna would ever balk at a year abroad. But when I subsequently thought back to how I felt going off to college–scared, nervous, and apprehensive—and then added in the 'only new girl in a foreign country' factor, it completely makes sense. But Anna, like the reader, quickly falls in love with her new home. Perkins' descriptions, of both the scenery and the little touches of Parisian life (rich coffee, croissants, cafes, the Pantheon), are vivid and enticing.
And, on top of everything, there is Nicholas Sparks hate! Anna's father is described as a writer of books, who writes "these novels set in Small Town Georgia about folks with Good American Values who Fall in Love and then contract Life-Threatening Diseases and Die" (ARC, p.4-5). Stephanie Perkins will win the love and respect of haters of sappy cheeseball romances the world over for her parody.
Anna and the French Kiss was one of my absolute favorite reads of 2010, a sparkling, effervescent romance that made me yearn for a year abroad in Paris. Pull up a chair, grab a croissant and a cup of (real French) coffee, and fall in love.