I read a lot this year. At the time of this post, I'm currently on my 244th book on the year (including 32 picture books). Going back through my Goodreads list was actually a lot of fun, especially when I noticed that my favorites covered the spectrum of genres, from dystopian to contemporary and historical fiction to nonfiction. I adored books published this year and devoured older books that I finally got my hands on. And I fell in love with young adult, middle grade, and adult books alike.
As 2010 was the year I started to listen to audiobooks (also known as the year my commute improved INFINITELY), I have included my five favorite audiobooks of the year, as well. While I'm most definitely not finished reading for the year, here are my literary highlights of 2010.
THE TOP TEN:
10. Sugar and Ice, by Kate Messner
Kate Messner is rapidly becoming one of my favorite middle grade authors. This story of Claire Boucher, a small town New York girl plucked from her maple farm and dropped into the world of competitive skating, is charming. Messner truly knows how to portray middle-schoolers, and her characters and situations are realistic and vivid. I especially appreciate the 'realness' of Claire, her friends, and her family. Claire loves math and is fascinated with Fibonacci numbers. Her family is close and loving, all pitching in to accomplish the tasks associated with running a maple farm. And her best friend Natalie is an amateur beekeeper. In a time when so many books seem to glorify materialism, Messner provides a bright spark of warmth, love, and humanity.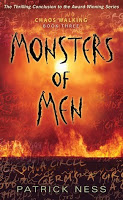 9. Monsters of Men, by Patrick Ness
Ness' conclusion to the amazing Chaos Walking trilogy was much more satisfying to me than Suzanne Collins' Mockingjay. As Todd and Viola approach their final confrontation with the cruelly compelling Mayor Prentiss, the Spackle take a more central role in the action.
8. Drums, Girls, and Dangerous Pie, by Jordan Sonnenblick
Thirteen year old Steven must cope with both adolescence and grief when his five year old brother Jeffy is diagnosed with leukemia. A combination of sad, poignant, heart-breaking, and funny, Steven and Jeffrey will stay in your heart. (The sequel, After Ever After, is also highly recommended.)
7. The Red Umbrella, by Christina Diaz-Gonzales
Diaz-Gonzales tells the story of fourteen year old Lucia, who, with her younger brother, becomes part of Operation Peter Pan, a movement which sent more than 14,000 children to the United States to live with friends, relatives, homes, or foster familes after Fidel Castro's regime took hold of Cuba. This book was full of heart, humor, and the simple daily events of growing up, filtered through an intriguing historical event.
6. Anna and the French Kiss, Stephanie Perkins
A charming, sparkling love story filled with realistic characters, clever dialogue, and palpable chemistry. Perkins is an author to watch. You can find my
full review here
.
5. Before I Fall, by Lauren Oliver
Oliver's debut novel manages the difficult task of humanizing a mean girl, Sam, who must repeat the same day over and over in order to atone after her death. The 'Groundhog Day'-like repetitions, while similar, each manage to have a nuance and originality of their own, making the gradual transformation of Sam ring true.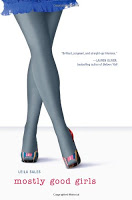 4. Mostly Good Girls, by Leila Sales
Sales writes a poignant tale of best-friendship torn apart that is so much more than the misleading pair of legs on the cover. The writing is fresh, witty, original, and utterly hilarious, and the anecdotal style of the chapters works very well.
3. Penny Dreadful, by Laurel Snyder
Magical and enchanting. Laurel Snyder creates a character to fall in love with in Penny, the young girl who can not help but wish it was magic that caused her family to move from a large, lonely house in the city to an inherited property in Tennessee when her father abruptly quits his job. As the family interacts with a large, quirky cast of characters, the reader is witness to the true power of friendship, love, and determination.
2. The Help, Kathryn Stockett
It's shocking to read this story of 1960s Mississippi and realize how far our society has come in the past 50 years. When young Skeeter Phelan sets out to write an expose of how black maids are treated in her community, lives are rocked. I was enraptured by the 3 distinct voices in this story. Stockett truly brings Skeeter, Miss Celia and Aibileen to life.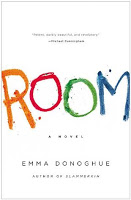 My #1 favorite book of the year: Room, by Emma Donoghue
Stunning, heartbreaking, and emotional, Room features some of the most amazing writing and perhaps the most vivid voice I have ever witnessed in print. Narrated by 5 year old Jack, Room tells the story of Jack and his Ma, who was abducted by Old Nick seven years ago and imprisoned in his fortress-like garden shed. While this premise may sound depressing, to Jack, the room they live is his entire world, and witnessing his world-view, love for his mother, and utter innocence and honesty is an emotional journey for the reader. It is ultimately a story of love, despair, discovery, and hope, one that will stay with me forever.
AUDIOBOOKS
5. The Goose Girl, by Shannon Hale
My first experience with Full Cast Audio, this was a lush production of Shannon Hale's adaptation of the traditional Goose Girl fairy tale. When Ani is betrayed and her identity taken over by her lady in waiting, Selia, Ani must somehow reclaim her true identity–in the meantime hiding in plain sight as a goose girl. Ani is a multi-layered character who overcomes her limitations in order to triumph, and the voice cast is top notch. Shannon Hale writes beautiful, vivid prose, and her phrasing paints stunning pictures.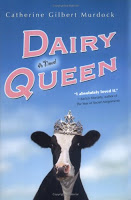 4. Dairy Queen, by Catherine Gilbert Murdock
DJ Schwenk is a tomboy, not too smart, and responsible for helping run her family's dairy farm. But everything changes when she decides to try out for the football team and starts crushing hard on the quarterback of her rival team, Brian Nelson. Narrator Natalie Moore has a fantastic Wisconsin acc
ent and an open, engaging voice.
3. Life as We Knew It, by Susan Beth Pfeffer
When an asteroid hits the moon, no one knows how much life is going to change. But Miranda tells the whole story of her family and the country's struggle to survive in her diary, mixing the mundane concerns of adolescence with the greater food shortages and volcano eruptions threatening the world. Narrator Emily Bauer has the perfect innocent, confiding tone for this story.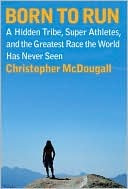 2. I Am the Messenger,by Marcus Zuzak
Zuzak is simply amazing. When Ed Kennedy receives a playing card with four addresses on it, he has no idea how his life is about to change. Soon he is sent on a mission, traveling throughout his downtrodden city in order to help random strangers with their problems, serving as a guardian angel while simultaneously helping himself. You can find my
full review here
.
1. Born to Run, by Christopher McDougall
McDougall tells the story of the Tarahumara Indians of Mexico, an ancient tribe known for both their reclusion and their amazing long-distance running skills. Mixing together historical details with scientific facts about the benefits of barefoot running and the narrative of a modern-day 50 mile race through the Mexican desert, McDougall crafts a smart, engaging, and fascinating story. As a runner, I was riveted. As a reader, I was impressed.