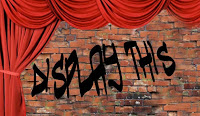 This week, we celebrate Veteran's Day in the U.S., and what better way to remind teens that what may seem quite removed from them is, in fact, a reality of their lives than with a display of teen fiction about other young people serving or affected by war in some manner. These books focus on contemporary war and the issues therein.
If you have suggestions of other similar titles, share them in the comments and I'll add them to the display. I am eager for your input on this one because I believe there is a real dearth in this direction, and there is essentially nothing told on contemporary war set abroad or from the foreign perspective. There is also nothing, to my knowledge, featuring a female in the battlefield. I'm not looking for memoirs akin to A Long Way Gone, which are, in my mind, a separate genre all together. Lend me your brains!
Ghosts of War by Ryan Smithson: A memoir of a 19-year-old solider, who made the decision to enter the military after watching the destruction in the wake of 9/11. A take on the reality of serving today, and it's told through the eyes of a young person to young people.
Things a Brother Knows by Dana Reinhart: When Levi's brother Boaz returns from a war in a far away country, he is not the same person he was before. This story explores survivor's guilt and the return to home life for a solider, as well as the adjustments a family makes in the aftermath.
Gigged by Heath Gibson: ROTC cadet J.T. is determined to follow in the footsteps of his father who fought in the Gulf War, but will his living situation and those around him make this dream a reality or unreachable?
Back Home by Julia Keller: Rachel's dad is back from the war, but he is far from the man she knew before he went. This story is a deeply touching look at post traumatic stress disorder from the perspective of the daughter, and it's one that in my book talks the kids have been drawn to.
Sunrise over Fallujah by Walter Dean Myers: Although Robin's parents hope he chooses to go to college, his heart is on joining the military. When his unit is deployed, Robin may have to learn to trust people more readily than he's willing to.
Purple Heart by Patricia McCormick: Matt wakes up in an Army hospital with a Purple Heart pinned to his shirt and the memories of a young Iraqi boy and the weight of guilt may make the honor meaningless to him.
Heart of a Shepherd by Rosanne Parry: 11-year-old Brother has to take responsibilities of ranching and livestock at his Oregon home when his father and brother are called to war. This middle grade novel explores faith, war, and the challenges of being the child of a military family.
Bamboo People by Mitali Perkins: While this story takes place in Burma during one of their wars, including it in a display will heighten the reality of war and military service to today's teens in America. This is what happens when youth don't have the opportunities to option out of service.