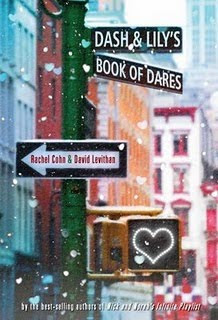 "I've left some clues for you.
If you want them, turn the page.
If you don't, put the book back on the shelf, please."
So begins the latest whirlwind romance from the New York Times bestselling authors of Nick & Norah's Infinite Playlist. Lily has left a red notebook full of challenges on a favorite bookstore shelf, waiting for just the right guy to come along and accept its dares. But is Dash that right guy? Or are Dash and Lily only destined to trade dares, dreams, and desires in the notebook they pass back and forth at locations across New York? Could their in-person selves possibly connect as well as their notebook versions? Or will the be a comic mismatch of disastrous proportions? (Summary from Goodreads)
It's a few days before Christmas, and Dash, a holiday Scrooge who hates the commercialism that strikes New York City every December, has finagled a solo Christmas for himself, telling each of his divorced parents that he is with the other parent. But one day at the Strand, his favorite bookstore in New York (which I am now DYING to visit–18 MILES of books? Yes, please), Dash stumbles upon a red Moleskin notebook, wedged near a copy of Salinger's Franny and Zooey, and filled with instructions that send him throughout the bookstore, following obscure clues. After completing this scavenger hunt, he makes the pivotal choice to send the red notebook back on to its writer, Lily–slightly quirky, slightly lonely, slightly overprotected, and wholly endearing–, which sets into play a unique pen pal correspondence/scavenger hunt/mystery.
Dash and Lily's Book of Dares is the perfect book to read around the holiday season, full of New York landmarks (FAO Schwartz, seeing Santa at Macy's, a holiday lights display) and holiday cheer. Yet Cohn and Levithan spice up these happenings to hilarious effect. While at Macy's for a dare, Dash doesn't just visit Santa–he must push past an age-enforcing Elf and actually feel up Santa in order to receive his next clue. A snowball fight in the park with a group of kids leads to Dash accidentally pelting a boy in the face and having his face splashed upon a wanted poster and being pursued by a vindictive mommy brigade. Lily's fashion statement of choice is a pair of her Great-Aunt's old majorette boots, complete with tassels.
While I am a fan of David Levithan, I haven't read any of Cohn and Levithan's joint works before, although I thoroughly enjoyed the movie version of Nick and Norah's Infinite Playlist. The characters speak in an idealized manner, with a wit and vocabulary that normal high school students generally don't use in daily life. However, this novel, filled with the twinkling lights, heightened energy, and first love of the Christmas season, almost seems to exist in a fantasy world of its own, lending a bit more believability to the speech habits of its young protagonists. Dash and Lily are both fully realized characters, with fears, doubts, and flaws, and their eventual realization that they just have to try this out and move forward into a life of their own making, together, is emotional and touching. The supporting characters, most notably Lily's eccentric Great-Aunt and Lily's brother, are also well-fleshed out, and Lily's brother provides a lovely portrayal of a gay teenager in the throes of first love.
However, while there is much to recommend this book, it just didn't strike me as one of my favorites, as something that would stick with me. It was, simply, a holiday treat–full of flavor and charm, but gone all too soon.
Also, let me just say that this is perhaps one of the coziest, most charming covers that I have ever seen. I would hands this to fans of John Green and Maureen Johnson.