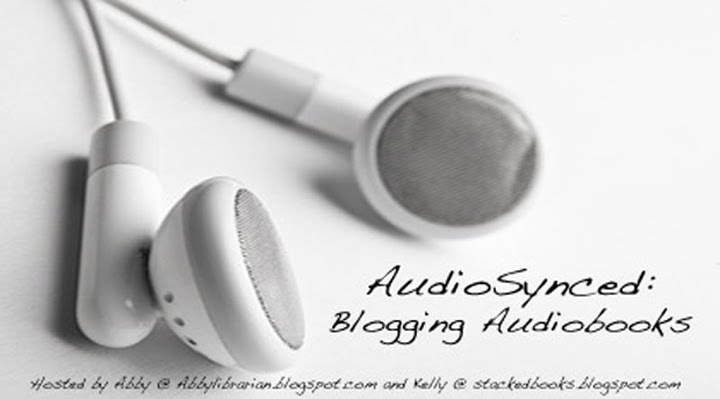 Welcome to another month of AudioSynced, your roundup of reviews, news, and other audiobook related stories from October 1 until now. If you've got something audiobook related on your blog, share it in the comments and I'll add it! Next month, make sure you head over to Abby (the) Librarian's blog where she'll be hosting.
News:
This month marked the launch of new audiobook publisher Iambik. The founder was also the founder of LibriVox. To learn more, check out this release and their website.
Have you checked out Audible yet? If you haven't perhaps the idea of two free audiobook downloads will convince you. Just head to this site and sign up. It's easy to use and the amount of titles they have available is incredible.
Views:
Julia of Spine Label shares with readers what makes an audiobook awesome. She's serving on the "Awesome Audiobooks" committee for YALSA, which creates a list of the best of the best. Check it out.
On SLJ's Practically Paradise blog, Susan shares her plea for audiobooks at her school and discusses how she uses them (and how the kids respond).
Devourer of Books offers her take on how to best choose an audiobook for those who haven't tried one yet. Practical and helpful!
Jenn at Jenn's Bookshelves has featured haunted books over the last few posts of hers, and in her final post, she's offering up the opportunity for 9 people to win spooky audiobooks by some of the biggest names in creepy stories. Enter to win here through November 12.
Reviews:
We're back! Jen shared a review of Marcus Zusak's I Am the Messanger here at STACKED.
Abby brings us two reviews this month. First up is the middle grade title The Broken Bike Boy and the Queen of 33rd Street and then she shared a review of Scott Westerfeld's Leviathan.
Lee over at Reading with My Ears has gotten back into the swing of posting this month, bringing us 5 reviews! Check out reviews of The Merry Adventures of Robin Hood, Stephen King's The Long Walk, Rachel Ward's Numbers, non-fiction pick (still sitting on my to-be-read pile) The Boy Who Harnessed The Wind, and Laura Amy Schlitz's The Night Fairy.
Rhapsody in Books gives us a review of Jon Stewart's Earth on audio this month.
Have news or reviews to share this month? Pop 'em in the comments to be added!