Journalist and blogger Matthew Jackson joins us a second time for a guest review of The Sherlockian, a debut adult mystery/thriller from Graham Moore which went on sale today. Jackson blogs about books, movies, and other nerdery at www.awalrusdarkly.blogspot.com.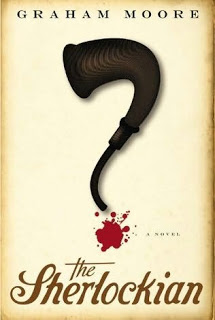 Upon Arthur Conan Doyle's death in 1930, his personal effects and papers were scattered among family members, universities and other scholarly organizations. Doyle was a writer in the most literal, compulsive sense, documenting the details of his life in a series of leather bound diaries. After his death, one of these diaries, documenting the latter portion of 1900, went missing. Sherlockians (scholars who study, often fanatically, the life and times of the world's greatest detective, Sherlock Holmes, and his illustrious creator) of the highest caliber have searched for the diary, considered the Holy Grail of Sherlock Holmes studies, for eight decades without success.
Graham Moore uses this last mystery of one of the great mystery writers as the catalyst for his debut novel, The Sherlockian. In Moore's highly fictionalized version of events, based loosely on the strange death of noted Sherlockian Richard Lancelyn Green, a noted Doyle scholar claims to have found the diary and promises to debut it to the world at the annual convention of the Baker Street Irregulars, the world's largest Sherlock Holmes club. On the eve of this highly-anticipated lecture, the scholar turns up dead in his hotel room, and the diary is nowhere to be found. Newly-initiated Irregular Harold White and freelance reporter Sarah Lindsay are asked by a member of the Doyle family to get to the bottom of the mystery.
In between Harold and Sarah's Da Vinci Code-like quest for the grail of Doyle studies, Moore tells the tale of what happened to Arthur Conan Doyle himself in the months the diary is said to document. After a mysterious package appears on his desk, Doyle, with the aid of his friend Bram Stoker (author of Dracula), sets out to solve the mystery of a trio of murdered suffragettes that takes him into the seedier sections of Victorian London.
The Sherlockian flits back and forth between these two stories, attempting to present two simultaneously satisfying mysteries while feeding out a number of scholarly nuggets on Sherlock Holmes, Victorian London, The Baker Street Irregulars and Doyle himself.
It sounds like a cool concept, is a cool concept, especially if you're a fan of The Great Detective, but despite having a killer (pun intended) hook, a dynamic setting and the weight of one of mystery literature's great icons in its corner, The Sherlockian falls flat.
Good thrillers, especially the kind that attempt to juggle two storylines, have to be fast. They have to be lightning fast, so hot in your hands that you can't think about sleep, even when it's 4 a.m. The Sherlockian's premise achieves that, but its pacing does not. Once the initial fire of the early chapters wears off, it's a stiff trudge to the next plot milestone, and when you get there the result is often underwhelming. Moore's overuse of detail when his characters begin to lecture on Holmes, Doyle, Victorian London and the like, is part of the problem, but it's not the only problem. Neither mystery is tight, or threatening, or even particularly complex. Both plot lines seem to meander along from clue to clue, often clumsily hitting on what are supposed to be huge revelations, but turn out to be either red herrings of flat-out disappointments.
Even the most flawed of plot-heavy fiction can be saved by the addition of a few intriguing, amusing or even disgusting characters, but everyone in The Sherlockian, even the towering figure of Arthur Conan Doyle, seems like a grayscale sketch of a person rather than anything real. Harold is little more than a talking encyclopedia most of the time, and the intended sexual tension between him and Sarah ends up as little more than weak banter. Every chapter seems to bring a new predictable archetype, no one seems to have any real face, and that means that the things they're after mean even less as the book wears on.
Moore is an able enough writer, even a good writer, but The Sherlockian is a debut novel that reeks of timidity and second guessing. There are moments – a discussion between Doyle and Stoker on the changing world in front of them comes to mind – that soar with a kind of insight that makes your hands tighten around the book, but they are few and far between. The rest is a mass of almost-good, shrug-worthy storytelling of the kind that almost makes you angry; angry that you can see the potential, but not the follow-through.
Galley obtained at BEA.