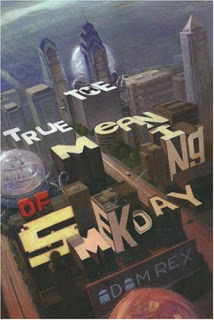 While I was disappointed with
Fat Vampire
, Adam Rex's sophomore novel for teens, I liked his writing style enough for me to pick up his much-lauded first novel for teens/tweens,
The True Meaning of Smekday
. It was a good thing I did – the book made me laugh out loud the whole way through.
Sometime in the future, aliens called Boov invade the Earth. After the occupation, Earth is renamed "Smekland" in honor of the great Boov leader who led the invasion. Christmas is renamed "Smekday," hence the title of the book. Twelve year old Gratuity "Tip" Tucci is assigned a paper in her class: she must write a five page essay on the true meaning of Smekday.
The rest of the book consists of Tip's essay, which is basically one long flashback. Tip's story, naturally, takes up much more than five pages.
In her essay, all humans are being relocated via rocketpod to Florida, and since Tip's mom has been abducted by the Boov, she has to get there on her own (accompanied by her cat, Pig). She decides to forgo the rocketpod and instead elects to drive. Along the way, she meets a Boov named J.Lo who transforms her car into a hovercraft, and the relationship between the two characters is both touching and hilarious. The journey isn't smooth – the group ends up having to fend off a second alien invasion (the Gorg) before the end of the book, and it turns out J.Lo is a bit of a renegade Boov, meaning he's being hunted by his own kind as well.
Like in Fat Vampire, Adam Rex has thrown a lot into this book, but here it all works. It's a road trip book crossed with a buddy book set against the backdrop of an alien invasion. Not only is Tip trying to make it to Florida safely, she's also trying to find her mother. When she and J.Lo make it to Florida, she discovers the Boov have changed their minds – all humans are now being relocated to Arizona. Tip and her crew also run into two ineffective human rebel groups (both came up with the acronym BOOB to describe their organizations entirely independently of each other), a theme park that flips upside down at night, and a replicator which they use on Pig to create a room full of cats (why not?).
Plus, there's pictures – photographs, comic strips, doodles…and they're all funny. J.Lo's comic depiction of the history of the Boovish race is particularly amusing. The True Meaning of Smekday is a great book for reluctant readers (if they aren't put off by the length – 423 pages), and Tip's voice is the perfect mix of snarky and sympathetic without ever getting annoying.
Despite Tip's terrific narration, J.Lo is really what makes this book awesome. His alien speech patterns as he attempts to learn and speak English are hilarious, in particular his references to American idioms and habits that we don't even give a second thought to. J.Lo's dialogue just begs to be read aloud. Here's an example:
"If you are tolooking for the pink squishable gapputty, it is smooshed in the gloves box. You will have to use brown."
It makes sense in the context of the book, I promise. Here's an exchange between Tip and J.Lo as Tip tries to explain the concept of human families:
"So…the humansmom and the humansdad make the baby all by themself," J.Lo said slowly. "Aaand…afters they make the baby they…keep it?"
"Yes."
"As like a pet."
"No."
"[With the Boov] nobody knows their offspring, and nobody knows their parents."
"Nobody? Well, that's one thing we humans do better than you Boov. Families are better."
J.Lo shook his head as much as an alien with no neck can do that. "I haveto seen human families. Some of them, the peoples, they stay in family they do not like. Some humans do not have an easy living with their family-mates. The brothers and sisterns, especiably."
I could quote passages forever, but I wanted to give you an idea of the tone of the book and why I enjoyed it so much. This is easily one of my favorite reads of the year. The thing I'd like to stress most is that it is really, really funny. My review can't do it justice, and neither can little snippets from the novel. You don't have to be a science fiction fan or even someone who reads a lot of YA or middle grade to like it. You've just got to enjoy a good story and not mind getting weird looks from strangers since you'll be chuckling to yourself every few seconds. I loved this book and it's one of the few I can see myself re-reading later on.