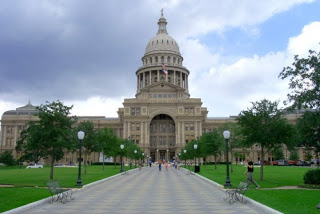 This past weekend I traveled to Austin to attend the 15th annual Texas Book Festival, a two-day extravaganza in the capitol building and on the capitol lawns featuring a bevy of authors, illustrators, and readers.
I can't remember a time when the book festival was not a part of my life. I always enjoy visiting the capitol building – my favorite building in the state of Texas and one of the few state capitols that actually looks impressive. It was a beautiful weekend to be out in the sun, walking around the green capitol grounds and just relishing being among a huge throng of readers.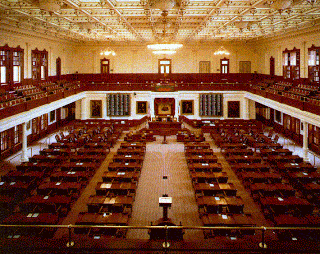 There were a couple changes this year that I wasn't so wild about. First, the House and Senate chambers are being renovated, so they were both closed and no events took place inside them (except the Senate chamber on Sunday for a few panels). So instead of sitting at a desk and pretending to make Very Important Decisions, we were mostly in the capitol extension rooms downstairs. That beautiful room off to the right is the House chamber, which I sadly did not get to see this year. Unavoidable, but still disappointing.
Second, for the first time in the history of the festival (at least that I can recall), security gates were installed at each entrance to the building. Before this year, visitors could just walk right in with no pauses or lines, and no need to remove belts or watches or have their bags searched. Not anymore. That was probably the most disappointing part of the whole experience. I've a feeling the gates are permanent, and I'd be lying if I said that fact didn't diminish my love of the capitol more than a little.
But enough with the disappointments. Overall, it was a terrific two days. Here are some highlights. Warning: this is a long post. I just can't help it.
Day One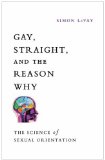 Instead of battling the throngs of people packed into the Paramount to see Laura Bush, I elected to hear neuroscientist Simon LeVay talk about his book Gay, Straight, and the Reason Why: The Science of Sexual Orientation. LeVay was an excellent speaker: he described his research and fielded questions handily, managing to communicate his points clearly and without talking over the audience's head (or talking down to the audience, either). He's conducting some really important research that has massive social implications.
Then I headed to the Paramount to see the Literary Death Match, an event where four authors paired up for a "read-off" and the winners were voted on by a panel of judges including Holly Black. It was full of really cheesy and really raunchy humor, so definitely up my alley, although the first reading I could have done without. Bob Shea, author of the picture book Dinosaur vs. the Potty, was the last author to read and he brought the house down with a reading of the aforementioned book, as well as with his presentation of his "work in progress": Dinosaur vs. Writing Picture Books (I'm paraphrasing that – I can't remember the exact title). A few choice match-ups from that book include Dinosaur vs. explaining to your father what you do for a living (Dinosaur wins!), Dinosaur vs. obsessively googling your name (Dinosaur wins!), and Dinosaur vs. selling out (Selling out wins!). Hilarious and the best part of Day One.
The last panel of Saturday that I attended was Vintage/Anchor books presentation of "Writers on Reading." I'll be honest and say I only went because they hand out tote bags of free books each year, but I really could have skipped it. None of the books I happened to receive really interested me, and the authors on the panel – J. Courtney Sullivan and Abraham Verghese – were merely mediocre. I was particularly put off by both authors' arguments that critical reviews of their books were unnecessary and if a reviewer couldn't write a positive review, the reviewer should send it to someone who would. Here at STACKED, we believe that each book has an audience (even if it's a very small one), but we also believe in being honest. Sullivan's and Verghese's line of thought didn't sit well with me.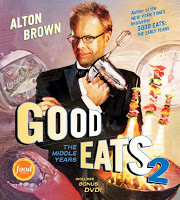 Next up was a quick walk through the tents and then it was time to head home for a brief rest before seeing Alton Brown at Central Market. My family and I were lucky enough to score a few of the limited seats inside the venue, so we were treated to a solid half-hour of Alton Brown being his awesome self as he answered audience questions. Afterward, he signed copies of his new book Good Eats 2: The Middle Years. He was just as funny, energetic, and personable as his tv show indicates.
Day Two
First up on Day Two was a fantasy panel entitled "Portal to Imagined Worlds" featuring Cinda Williams Chima, Carolyn Cohagan, Ingrid Law, and Brian Yansky. They were uniformly interesting and just a great way to start the day. Fantasy was what made me a reader in the first place, and it's still my greatest reading love. I loved hearing about their path to being published and that not a single one of the four bothers to outline. Every year at the Book Festival, I attend a panel that inspires me to write, and this one was it.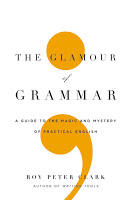 Next up was "English Language: Under the Hood" with Roy Peter Clark and Ben Yagoda. I'm having trouble deciding what my favorite moment of this session was. The first moment came when Yagoda shot down an audience member who stated that people nowadays (meaning young people, natch) neither read nor know how to use the English language properly. His rebuttal was excellent and still makes me smile. The second moment came when Clark launched into a few punny Tom Swifties, including "'I dropped my toothpaste,' he said, crestfallen." I'm glad I snagged a copy of Clark's The Glamour of Grammar at TLA earlier this year.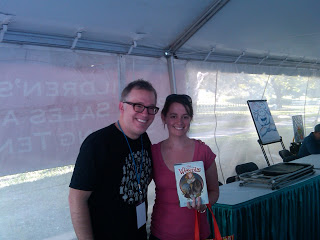 The last event I attended was Tony DiTerlizzi, who introduced his new fully-illustrated (over 100 pages of color illustrations!) novel for middle graders The Search for WondLa. He spoke about his influences (both literary and artistic) which include Alice in Wonderland, Peter and Wendy, and The Wizard of Oz. The cover for the book in particular reminds me of W. W. Denslow's illustrations. The Wizard of Oz has long been near and dear to my heart (I practically learned to read on Baum's books), and I was very impressed with both DiTerlizzi's presentation, which was funny and interesting, as well as with his art, which is expressive and beautiful. The whole book is a work of art, and I was very pleased to purchase it and have him sign it for me (He's also a very nice man). As I waited in line, I noticed several kids who just could not wait to start reading – their noses were in the book and didn't leave it, even when they were next in line to meet the author. That's pretty awesome.
That's my Texas Book Festival experience in a nutshell! I can't wait to go back again next year, where I might decide to skip the Vintage/Anchor books panel and where I'll cross my fingers that the House and Senate chambers will be open again (pretty likely) and the metal detectors will have disappeared (not likely, I'm afraid).