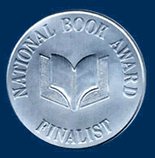 With the announcements of this year's National Book Award finalists, we thought we'd offer up our thoughts on this year's picks, as well as what we were surprised didn't make the cut.

Though I have only read two (One Crazy Summer & Mockingbird) out of the five nominations for Young People's Literature, one thing that struck me was how the choices seemed to lean more toward Middle Grade than Young Adult Literature, which has seemed to dominate in years past. For example, the subject matters of Laini Taylor's Lips Touch (2009), Judy Blundell's What I Saw and How I Lied (2008) and even E. Lockhart's The Disreputable History of Frankie Landau-Banks (2008) are much more mature than those of both One Crazy Summer and Mockingbird, which both feature an 11 year old protagonist.
It also seems like a rather bleak field, subject-matter-wise this year, with Ship Breaker detailing the post-apocalyptic aftermath of a hurricane, Dark Life taking on forest fires, Lockdown taking place in a bleak juvenile detention facility, One Crazy Summer bringing three young girls to visit the mother who had abandoned them years ago, and Mockingbird showing a girl with Asperger's learning how to deal with her brother's death. While I know that most award-winning books are bleak, this seems to be an especially heavy crop this year.
Again, while I can only speak for two of the books, I do firmly believe that both deserve their nomination. I adored Mockingbird, which was poignant and beautifully written. The characterization of Caitlyn was incredible, along with her evolving relationship with her father. While I did enjoy One Crazy Summer, I don't think I loved it as much as many reviewers did. However, Williams-Garcia's story vividly portrayed what it is like to feel abandoned and painted a striking picture of being a child in the Black Panther movement.

I'm a little embarrassed to admit to having only read one of the finalists for the Young People's category this year, and that was Lock Down by Walter Dean Myers. I have had on my to-read list The Great House by Nicole Krauss, which is on the adult list this year.
I'm with Jen on thinking the field is quite bleak this year, but I'm not too surprised to see some of the titles on there, including Mockingbird and One Crazy Summer, both of which have generated quite a bit of buzz. I'm also surprised there's not an "out of left field" title in there like last year's Stitches; instead, they all seem pretty straightforward.
Perhaps what surprises me are some of the worthy titles not included this year, namely Jonathan Franzen's Freedom and titles like Steve Brezenoff's Absolute Value of -1. For me, Lockdown just wasn't a super strong novel, and given the buzz surrounding some of the other Young People's titles, I'm a little surprised it's up there (maybe it's the WDM name that does it).
I am perhaps most struck by the fact that there is not a single non-fiction title in the youth crop. Last year, two non-fiction titles were selected; this year, despite there being two big name non-fiction authors dropping new titles (Russell Freedman and Susan Bartoletti), neither them nor other non-fiction writers are getting any love.
I made it a goal last year to read all of the titles in this category, and I'm going to try to do it again this year (it helps that a few are Cybils nominees). I've got a feeling from reviews and buzz alone that Mockingbird might come out on top this year. We'll see what happens in a few weeks!