Guest blogger Matthew Jackson continues his series of posts for the month of October on horror literature. Today's post is part two of four. Make sure you've read up on the entire series by reading the first installment here.
Horror Lit 101, Part the Second: In which we discuss the Old Masters.
Modern horror fiction (as we know it, anyway) grew out of the murky, chaotic depths of the 19th century, when a few demented souls were churning out tales of things that go bump in the night. These writers were in many ways dubbed freaks in their age, and many of them are still freaks to us now. They broke taboos, they broke rules, they bent genres to the breaking point, and many of them died either broke, scorned or both, but in the process they gave birth to some of the great works in speculative fiction and many of the conventions that are now commonplace in horror tales.
There are innumerable minor writers within this movement (Algernon Blackwood for one, Arthur Machen for another), but for the sake of brevity (and clarity, as I'm sure I could bury this whole post in esoteric references to Victorian tales of the macabre if I weren't careful), we'll focus on four of the major authors, the household names. We'll go in chronological order, beginning with the Big Three (Shelley, Poe and Stoker) and ending with the author I call The Bridge (that is, the link between the classics and the contemporaries), H. P. Lovecraft. Along the way we'll visit the particularly bone-chilling details of their finest work, why it has survived so long, and what they contributed to the horror fiction we read today. First on the list, the young Englishwoman who breathed life into a mad scientist and his monster…
Mary Wollstonecraft Shelley (1797-1851)
Book nerds regard the tale of how Mary Shelley's Frankenstein, or The Modern Prometheus came to be as one of the great literary legends of all time. In the summer of 1816, Shelley and her husband, the poet Percy Shelley, rented a house on Lake Geneva with George Gordon, Lord Byron. The trio passed many rainy nights reading German ghost stories aloud, and eventually Byron challenged each of them to conceive their own supernatural tale. Out of this grew Frankenstein (and, interestingly, a short story by Byron's physician, John Polidori, that is among the first vampire tales written in English).
All critical relevance aside (and believe me, there's a lot of it), why are we still so enthralled by a nearly 200-year-old tale of the living dead, especially when new tales of the living dead are popping up like hands in a graveyard? Well, the simplest answer is that we're enthralled by Frankenstein because it's enthralling. Shelley's precise, almost clinical prose is remarkably atmospheric (I can still recall her description of the creature's yellowy skin), and her tale is paced with all the explosive ferocity of a modern thriller.
More importantly, it's one of the earliest tales to speak directly to one of our greatest fears: that our own bodies could be perverted into something horrible after we die. People always talk about this in broader terms, in terms of science wrecking the sanctity of life, but when you really get down to it, Frankenstein is scary because we imagine ourselves as the body on the slab, being chopped up and reassembled then pumped full of electricity until we're a walking, talking shell of what we were, and worse, that we're aware of it. (Shelley's original monster learns to talk and think just like we do, which makes his experience all the more painful.) It's a story of invasion, of bodily corruption, and you can find its descendants everywhere, from the films of David Cronenberg to the novels of Dan Simmons.
Edgar Allan Poe (1809-1849)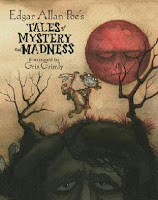 For all the posturing the literary types like to do about Poe and his contributions to literature of the macabre, the guy wrote exploitation stories. He was a poet at heart, aching for personal losses and hopping from job to job in the publishing world while he tried to find something fulfilling amid alcoholism and depression. To help pay the bills, like so many writers before and after him, he turned to sensationalism. Lucky for us, he was good at it, and the results were among the most vivid and chilling horror tales ever written.
You've got your buried alive tale ("The Premature Burial"), your revenge tale ("The Cask of Amontillado)", your torture tale ("The Pit and the Pendulum"), your plague tale ("The Masque of the Red Death"), your haunted house tale ("The Fall of the House of Usher") and perhaps the most vivid of all, the internalized ghost story ("The Tell-Tale Heart"). It is the last of these that always struck me as the most effective, at least among Poe's work. All of these stories are important to the genre. Many of them are flat out revolutionary, and have been imitated ever since (See Stephen King's "Autopsy Room Four" as just one example.).
But there's something about "The Tell-Tale Heart," about the relentless psychological hell it seems to hurl into the reader's head, that makes it stand out as a masterwork among masterworks. It speaks to the fear that we might lose control of the one thing we always thought we could manage: ourselves. We all have our own little bodies under the floorboards, and even if we're not murderers, it's a story that suggests we could be, which might be among the scariest feelings of all. Poe was a master at conveying this kind of internal torture, and for all the unapologetic sensationalism of his work, it's that internalized agony that makes it all too real for us.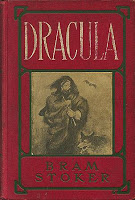 Bram Stoker (1847-1912)
Perhaps no single work of horror fiction has had greater impact on the genre than Bram Stoker's vampire novel, Dracula. Published in 1897, it has been imitated thousands of times in book, film and television, and produced in Count Dracula perhaps the most iconic villain ever created, short of Satan.
Stoker wrote other horror novels, but Dracula stands out, both for its new treatment of the vampire (which up to that point had been a somewhat primitive Romanian folk tale), epistolary structure (it's all told through letters and journal entries), and its symbolic complexity. Dracula is perhaps the first novel that presents a terror we're not only afraid of, but also somewhat drawn to (hold that thought, because we're going to talk about it a LOT more). Count Dracula is terrifying, true, but he's also engaging, charming, and often quite literally spellbinding. Moreover, Stoker's novel is dense with psychosexual subtext. The vampire is clearly is a dominant creature, forcing ladies like Mina Harker and Lucy Westenra to submit to his will, which just happens to be a form of penetration.
On the other hand you have Abraham Van Helsing, the vampire hunter obsessed with brutally staking (again, penetration) the phantoms in the night. It's a novel filled with the savage heat that falls somewhere between sex and violence, about the taboo things that we don't want to admit we desire, and it shook Victorian sensibilities (and undergarments) to their core. Of course, it's also just a cool story about a monster, but try reading it the same way now that you've got all of that in your head.
H. P. Lovecraft (1890-1937)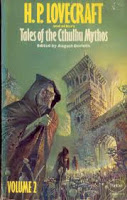 Another exploitation writer who made good, H. P. Lovecraft wrote fantastical monster stories and sold them to the pulp magazines like Weird Tales and Black Mask that dominated newsstands in the 1920s and 1930s. I call him The Bridge because he represents a sharp distinction between the writers that we've already discussed and the writers we've yet to discuss. With a few caveats, Shelley, Poe and Stoker all wrote tales about the evil that men (or monsters in the shape of men) do. Lovecraft, with his tales of incomprehensibly huge evils and demonic forces from beyond our understanding, wrote about the evil that men find.
He was not a great stylist by any means, and his dialogue is flat out terrible, but his "Cthulhu Mythos," a series of tales in a subgenre he himself termed "cosmic horror," are among the most influential of all modern horror fiction (Read "The Call of Cthulhu" as a starting point in this vast, irregular field of tales that now includes many writers). You can see the touch of Cthulhu (the name for the most famous of Lovecraft's Old Gods) in Mike Mignola's ongoing comic book Hellboy, in the stories of Stephen King and Clive Barker and in the films of no less than Steven Spielberg and James Cameron.
Lovecraft wrote stories supposing that great, hulking shapes lurked everywhere; in the depths of the ocean, in the farthest reaches of the stars, even in the earth beneath our homes. He crafted elaborate names for these beings, gave them human slaves and crafted tales of their unveiling in which reasonable men went mad when the discoveries became apparent. The fears in Lovecraft's stories are all about the things we can't see, can't find and can't understand. What if those things just beyond our understanding are best left there? What if we push the envelope of discovery a little too far and find something that will swallow us whole.
Lovecraft's stories were perfect for a dawning scientific age, and in a time when we're pushing further and further into our universe, they're all the more relevant now. Some critics mock him, but someday when NASA points the Hubble at a distant star and a tentacled creature the size of Russia pops out, they'll all have to eat their words…and their souls (evil laugh).
So, these are The Old Masters, the ones that came before. Next week, we'll discuss the greats of contemporary fiction, why they're great, and what fears they have unveiled.