Guest blogger Matthew Jackson continues his series of posts for the month of October on horror literature. Today's post is part four of four. Make sure you've read up on the entire series by reading the first installment here, the second installment here, and the third installment here.
Horror Lit 101, Part the Fourth: In which we attempt to crystal gaze.
Some say horror fiction is dead. It's bleedin' demised. It's passed on. It is no more. It has ceased to be. It's expired and gone to meet its Maker. It is a late genre. It's a stiff. Bereft of life, it rests in peace. It's run down the curtain and joined the choir invisible. It is an ex-genre.
These people are cynics, but I won't hold that against them. If you read as much grim fiction as people like me have, you tend to lean toward grim opinions. But I'm not among this crowd. I don't believe the genre is dead. It's evolving, just like it always has.
It's not what it used to be, of course. It would be easy to argue that horror is alive because vampires and werewolves and the like are alive. A quick browse of any bookstore will tell you that. But they don't exist solely in horror anymore. They're busy with other things. Seducing teenage girls (But not going all the way. That's important.), seducing women, brooding, seducing more women, brooding some more, getting thrown into scenes of Victorian courtship and, most importantly, sparkling.
I'm not judging, by the way. If paranormal romance is your bag, read your heart out, but don't mistake it for horror. Horror can titillate and romance and erotica can horrify, but we're talking about different things here. It would also be easy to argue that horror doesn't exist on its own anymore. Sci-fi horror exists, and fantasy horror, and modern horror and mystery horror and so on and so on. But this to me is a misstatement as well, because these genres don't encapsulate horror. The fact that horror is the only unifying part of these terms means that horror is the broader encapsulating genre, not the other way around.
So where is all of it going? Do we need to fear the loss of our beloved ghouls and ghosts? What is the future of horror? If we attempt to gaze into that psychic voice of trembling future visions, what will we see?
In attempt to answer these questions, we will have to comb the details. Rather than look at bodies of work, we must look at individual works by authors currently working in horror. To keep things brief and tidy, I'll focus on five works (long and short) by five different writers working to some degree or other within the genre. I do not claim to be a soothsayer by any means, just someone who cares a great deal about these kinds of stories. Still, I shall attempt to delight you with feats of psychic talent. Dim the lights, please.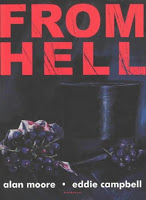 From Hell by Alan Moore
This is the oldest of the works on my list, published in volumes from 1991-1996, but it's worth talking, not only because it represents a return to horror in the graphic novel form (Horror comics were big in the early part of the 20th century, but died off when the Comics Code Authority came to prominence.), but because it was written by one of the great writers of our time, Mr. Alan Moore (The Great Bearded Wizard of Comics).
From Hell
is a massive (more than 500 page) re-interpretation of the Jack the Ripper tale that employs holistic crime solving theories (To solve a crime you must solve the society in which it takes place. See Douglas Adams for more information.), psychogeography and other realms of the bizarre where Moore is king. In addition to all this complexity, it's simply a terrifying portrait of a murderer. Never once are we in doubt of who the Ripper is, but the fact that we get to follow him around just makes it scarier. Moore's story, like most of his other genre-bending masterpieces, raised the bar for both comics writers and horror writers. The new face of horror was going to be a more complex one, and Moore, along with Clive Barker, whom we discussed last week, was among the first writers to declare it so.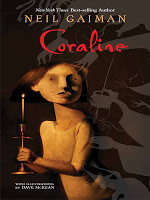 Coraline by Neil Gaiman
Scary stories are becoming more of an all-ages phenomenon than ever before, stretching even beyond that cutesy Roald Dahl kind of scary stuff. Apart from having a wonderful fairy tale feel,
Coraline
is just damn scary, from its atmospheric treatment of things going bump in the night, to its creation of an all too familiar monster in The Other Mother, the title character's Mom in a parallel universe. Buttons for eyes, long, clawing fingers and a tendency to devour beetles are just a few of the more terrifying traits of this witchy creation, and the fact that the whole tale is grounded in the perspective of a young girl who's just bored and tired of her own parents makes it all the more real.
Gaiman himself has been pushing a "new tradition" in which we give each other scary books for Hallowe'en, something the blogosphere has dubbed "All Hallows Read." This is the book I would recommend for anyone in your life, young or old, who could use a good fright.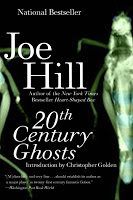 "Abraham's Boys" by Joe Hill
The son of Stephen King has proven himself quite the scary scribe in his own right, producing two acclaimed novels (
Heart Shaped Box
and
Horns
) and a collection of short stories,
20th Century Ghosts
, which includes "Abraham's Boys," a tale of the sons of Abraham Van Helsing and their education in the art of executing vampires.
All of Hill's work is wonderful, but "Abraham's Boys" is my favorite, because it seems to be the best indicator of the kind of badass horror story to end all horror stories he sets out to write. It ties in a legendary character from what some would call the greatest horror novel ever written, gives it a slightly more modern twist, and gives a fresh perspective to the vampire phenomenon by setting his story in the hearts and minds of children just learning about such terrors, even as their father is the world's foremost expert. It's an example of the ambition of modern horror. There are fewer writers attempting to pursue the genre in the classic sense, but the ones that are give it everything they've got.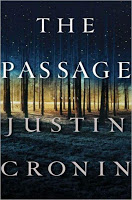 The Passage by Justin Cronin
Like Stephen King's
The Stand
and Robert McCammon's
Swan Song
,
The Passage
is a book about the end of the world and how the remnants of humanity cope with what's happened. While both King's and McCammon's stories use somewhat supernatural elements pitting man against man, Cronin's pits humanity against a super and/or subhuman element, a horde of vampiric creatures known as "virals." They were humans once, beginning as a few laboratory test subjects given injections of a virus that might have given them powerful healing ability. Instead they turned into monsters and took over the world, and now what's left of the uninfected are just fighting to survive.
This is the first book in a proposed trilogy on the battle to overcome the virals, so it's not clear yet exactly where Cronin will wrap all of this up, but The Passage itself is certainly a novel of very modern fears. We've always worried that technology would be the death of us, and Cronin takes that one step further, creating a very literal metaphor for how man makes its own monsters. Horror of this kind is no longer about a foreign beast come to conquer us. It's about how we devour ourselves.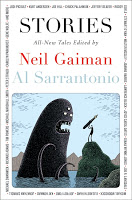 "The Cult of the Nose" by Al Sarrantonio
You can find this story in the wonderful anthology titled simply
Stories
, edited by Neil Gaiman and Sarrantonio and featuring tales by both editors along with Joyce Carol Oates, Peter Straub, Michael Moorcock, Jodi Picoult, Diana Wynne-Jones, Jeffery Deaver and more. Some of the stories are scary, but all are wonderful. The one that affected me the most was Sarrantonio's. It's a simple tale of paranoia in which a man begins to see grinning, masked figures everywhere he looks, including historic paintings and photographs. It's a story about the paranoia of always being watched, of always being closed in on by phantom shapes. In an age where privacy is ever-shrinking, it's a tale that's both highly contemporary and timeless, and it's a deeply unsettling read.
So, with these random samplings at hand, we can conclude that…Well, this is embarrassing, but I don't really seem to have a definite conclusion. Did I have that planned all along? Maybe. I'm a crafty little bugger. But perhaps it's good we can't arrive at a conclusion. It's fortunate for readers that we can't find a trend. There are too many trends in the realm of speculative fiction these days. Too many mash-ups, too many sparkly vampires and sensitive werewolves, too many perversions of things that used to be cool. It's good that horror is still unpredictable. The field is not dead, but it has shrunk, shrunk to a band of writers who are doing it because they love it, because they're really gifted. The future isn't clear, but it is full of startling and wonderful possibilities. And for that, we can be thankful.
That being said, I'd like to say that it's been a great pleasure to spend four weeks here at STACKED with all of you. I hope you enjoyed the experience as well, and I hope I can visit here again in the near future. In the meantime, please do participate in "All Hallows Read" should the spirits move you, and Happy Hallowe'en.