Our guest blogger today is Matthew Jackson, journalist, photographer, film critic, and Entertainment editor for the Huntsville Item, a newspaper in East Texas. He's also a tremendous book nerd and blogs about film, reading, and other nerdy (aka awesome) topics at A Walrus Darkly. This is the first of four in a series of posts he's written for STACKED on horror literature.
Horror Lit 101, Part the First: In which we speak a little about scary stories.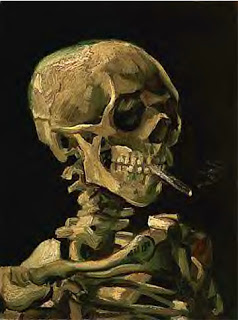 "All our fears add up to one great fear, all our fears are part of that great fear – an arm, a leg, a finger, an ear. We're afraid of the body under the sheet. It's our body. And the great appeal of horror fiction throughout the ages is that it serves as a rehearsal for our own deaths." Stephen King
Scary stories are as old as dirt. Older, even. I think it highly likely that two amoebic organisms were floating around in some corner of the Primordial Ooze eons ago, discussing whether or not to migrate to some newer, slimier corner of the ooze, when one of them said to the other: "No, you don't want to go in there. There's bad stuff in there. Vinnie went in there and never came out."
And yes, I know amoebas don't normally talk (And that they're not normally named Vinnie. Gordon is a far more likely name for a unicellular organism.). The point is that mysteries breed speculation, speculation breeds darkness, and that in turn breeds fear. Many of us get the same feeling when we enter our homes at night, and we're alone, and the whole joint is plunged into some kind of epic blackness created just for the occasion of being alone at night.
We all know that the most likely thing to happen is that we'll turn on the lights, and our house will be our house, and nothing will be out of the ordinary. But we also know that we could turn on our lights and find a person who shouldn't be there sitting at the kitchen table, or that a grimacing, masked face is peering through the window. Or maybe we won't even make it to the light switch; maybe some cold hand will wrap around our wrist and jerk us into the darkness…
These thoughts I just forced on you, like running into a cemetery at night and seeing which one of you can sit in a particular spot the longest, are all just a form of flirting with the darkness. We don't actually want to go in. Of course we don't. Not even the kids who wish a vampire would nibble at their jugular really want to go in. We just want to examine it, prod at it, turn it over in our heads. Some call it a subconscious desire to prepare for death, or to collect all these pieces of mysterious blackness in the hope that, when assembled as one, they'll make some sense of all the ill in the world. Some label it instead a very conscious desire to thicken their own skin. Most of us just call it fun.
In honor of the coming of a Hallowe'en (Yes, I spell it like that, and yes, I'm OK with being slightly pretentious in this instance, thanks.), I'll be traversing the landscape of horror fiction as I know it for the next four weeks, pointing out the best landmarks along the way and (I hope) providing a somewhat accurate picture of where the road goes from here. We'll visit the classics: Poe, Stoker, Lovecraft and the like. We'll visit the moderns: King, Barker, Bloch, Straub. We'll even talk a bit about the current state of the genre, and hopefully point out some essential reading that will aid in October's grim celebrations.
As for my qualifications, I can present (in addition to an English degree) only a rabid love of the genre, and a decade-long relationship with many of its best practitioners. Unlike many horror readers, who treat it like some sort of guilty pleasure, I make no apology for loving any of it, including the really farfetched stuff (One of my favorite Stephen King tales, "Battleground," is about toy soldiers coming to life and attacking a hitman.).
As for the snooty-minded who claim that "we can't really call horror literature 'literature' at all, now can we, old chap," I have only two responses. First, if you're snooty-minded about this sort of thing you're likely missing out on too many things to do anything more than claim knowledge of what you're snooty about. And second, the purpose of good art, no matter how far out or freaky, is to call forth something universal about us. This might be as profound as our inherent loneliness in the world or as primitive as our inherent desire to boogie. The point is to get a rise. When it's good, horror fiction will keep you up at night, fighting that anxious twitch in your stomach, reciting affirming mantras to wish away your terrors. When it's great, horror fiction will simultaneously provoke both that anxious twitch and a deeper understanding, a sense of standing at the edge of the void and being exhilarated by how damn fragile everything is.
I promise that's as far as I'll venture into how profound and misunderstood the genre is, because the real point of consuming horror, or any other popular fiction, is to enjoy yourself, after all. So, no more ardent pontification on why it's important, and much more ardent rambling about what among these works should be read, and why, and how (when it's really great) horror fiction is the most exhilarating fiction there is.
We'll get into that next week. But first, ground rules. We have a lot of ground to cover in a very short time. Whole books could be written about what I'm being asked to do in a few thousand words. So, I'm going to stick to a fairly strict interpretation of what horror fiction is. There will be no thriller fiction (which is meant to provide suspense more than terror), no science fiction (unless the focus is more on the monster and less on the machinery) and absolutely NO paranormal romance (Because fangs and mysterious brooding do not a monster make.) I'm boiling this down to the writers who set out to terrify us, to leave us worrying over every bump in the night; the writers who really and truly make it difficult to walk into your house alone.
So leave a light on, boys and girls. We have a dark journey ahead.