In the midst of my wild streak of Cybils reading, I've picked up more than one book that, unfortunately, I've stopped at the 75 page mark. Here's just a sample of some of the ones that didn't work for me and why — and why they might just work for other readers.
The Julian Game by Adele Griffin: This book's premise is that two girls create a phony identity for themselves on Facebook in order to get payback on a cute boy who did them wrong. There is certainly appeal here in the contemporary setting, the use of technology, and the use of cliques and insider/outsider feelings therein. But as a reader, I felt distanced from the characters, never quite feeling that they were realistic enough. The slang didn't click for me either, unfortunately, and I needed to give it up. Fans of Johnny Tucker Must Die will eat this up, as will fans of other stories of revenge and redemption. I bet, too, that the language in this book will appeal to many readers, even though it didn't work for me — that alone sets it apart from the crowd.

The Kid Table by Andrea Seigel: What initially was the huge appeal of this book for me was the fact it's a family story; there's going to be a little romance and a little bit about friendships, but the bulk of it centers on family dynamics and growing up in a huge family. This is precisely what became the downfall for me, though. There were too many characters with the same voice (or no voice) for me to keep up with. For many readers, though, this will be the appeal factor: it's relatable to those who grew up in large families. Pass this light hearted read to your fans of stories that aren't the norm for contemporary reads. It's different enough that it'll hold shelf life for quite a while, and many readers will think this is their story.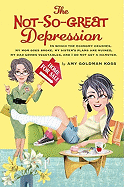 The Not-So-Great Depression by Amy Goldman Koss: Premise-wise, this book held so much promise for me. It's the story of what happens to a teen who's mother loses her job because of the economy (and her dad is in the same situation, but he's living back at home with his mom since her parents are divorced). However, the tone of this book was much too light hearted for me, as was the cover. I think this one had such possibility to be strong and powerful, but the execution didn't work for me as a reader. I didn't get the character development I anticipated, either. But, for fans of contemporary stories that do take a lighter approach or fans of books with a humorous tone, this is a great choice. The main character, in my mind, was a perfect rendering of a high school freshman: a little lost in her world but enjoying every minute of it in her naivety.
Jump by Elisa Carbone: P.K. is a runaway and her partner in crime, Critter, has just escaped from a mental institution. The two of them head west, away from their former shared town, in order to forge a new life based on climbing. This book sounded so great: it had athleticism in a different way and it would feature fresh characters. For me, though, I couldn't get to the whys of either character within the first 75 pages. This is a relatively short book, and I hadn't gained either sympathy or empathy for either character and I had yet to have any climbing experiences described. I was a little bummed, as I wanted the adrenaline and the excitement of climbing sooner. I think this is one that's a super easy sell to teens, though: the alternating points of view are distinct and very short, making this a fast paced read. Likewise, the rock climbing theme will resonate with many, and those who are more patient than me will likely be quite rewarded.
Have you read any of these and loved them? Share your thoughts in the comments! Sell 'em to me again.