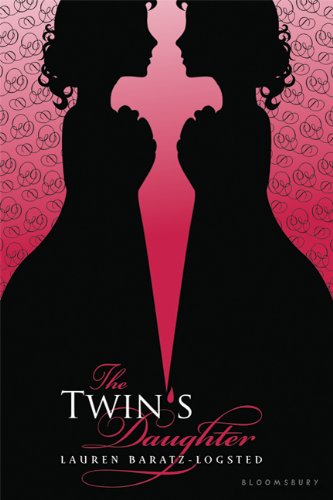 As readers already know, one of my favorite styles of writing is the gothic novel. On my recent trip to Las Vegas, I packed myself with The Twin's Daughter by Lauren Baratz-Logsted. I knew it was a mystery of sorts, but I knew little beyond that. When I cracked it open and dove into a nearly 400 page gothic novel, though, I couldn't have been more excited.
A knock on the door of Lucy Sexton's door will change her life forever when the long lost twin of her mother, Helen, appears. Lucy didn't know her mom had a sister, let alone a twin. Although Helen offers to leave, Lucy's mother and father insist on keeping her at their large home and taking care of her. But when Lucy's mother insists on getting her sister a new wardrobe, etiquette classes, and hiding her from society, Lucy knows something deeper is going on. Why can't Helen go for a walk in the park? Why can't she marry any of the suitors who are coming to the door for her?
The Twin's Daughter begins slowly, as we delve into the back story of who Lucy is, as well as who her mother and Helen are. We learn that Helen and mom were not the children of the man and woman that Lucy knew as grandparents, but were instead raised by them after a birth that shouldn't have happened — and in that birth, one child needed to be sacrificed to an orphanage of sorts. Although it sounds complicated, it makes sense to both the reader and to Lucy. What doesn't make sense, though, is why Lucy's mother and father insist on keeping Helen cloistered. As she makes progress in her education, it seems strange that Helen cannot go outside or cannot meet the men who want to woo her.
But it is a strange murder that rocks the world of Lucy and her family and it pushes the novel forward, as we are left wondering whether it is Lucy's mother or Helen who was the victim of the horrendous crime.
The Twin's Daughter, despite some of the flaws I found in pacing and in plot inconsistencies, rocks for its narrator: Lucy is a fantastic narrator, as we are left wondering whether or not she is reliable. In the first third of the book, Lucy gains the trust of the reader. We believe her observations that she has of her mother and father (and she tells us over and over they are great parents, leaving us to believe her) and of Helen. But when the murder happens, everything is called into question. Lucy becomes unhinged in her search for the truth and drags the readers along for the ride. She falls in love shortly after and marries, and while we believe her in those factual moments, we cannot believe some of the connections she makes between Helen and her mother.
As a reader, I was left confused at the end of the lengthy novel, and I was utterly satisfied in this. I reread the last couple of chapters multiple times and continued feeling disoriented. But once I stepped back and realized my confusion came from being too invested in Lucy's perspective, I realized that maybe I'd been tricked. But the trick here isn't a plot device. Instead, it was the hallmark of a strong gothic novel: as readers, we must step back and question everything. This is a novel that begs for a reread with this perspective; it is a lengthy character study with a strong plot in the background, rather than a strong background with a character to move through it.
As mentioned briefly before, there are some issues with this novel. First, the pacing is not as strong as it could be. It seems as though the first 2/3 of the novel has a young Lucy, but within just a couple of chapters, she will become engaged, married, and unravel the life-long secrets of her family (maybe, that is). Likewise, there were definite plot holes and moments of confusion for the reader, perhaps brought on because of the pacing. Readers, though, will likely forgive these issues for the greater story and mystery at hand.
The Twin's Daughter will appeal to fans of historical novels, novels set in Victorian London, and gothic novels. Hand this one to a fan of Jane Austen or the Bronte sisters, as there is a romance that arises between Lucy and a neighbor boy that would fit into the love stories of those classic writers. This is a book that will make readers think and question, as well as pull them through intricate twists and turns. Although it is lengthy, it moves quickly as readers attempt to solve the mystery. It left me eager to dig into more of Baratz-Logsted's novels.