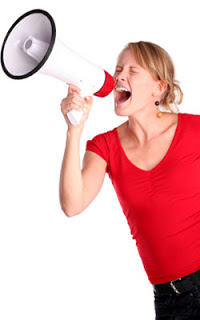 Yesterday, Kelly posted about the phenomenon of the mash-up: the original text of classic tales infused with monsters. Sounds fun and it's a clever marketing ploy, what with the current flood of vampire and zombie stuff out there. I thought the first one, Pride and Prejudice and Zombies, was a cute idea.
I'm going to be honest and say that I haven't read any of the mash-ups. But I hate them. Hate hate hate them. Hate them more than nuts in chocolate (WHY do people ruin perfectly good chocolate in this way?). Hate them more than I hate having to deal with cranky library patrons. Hate hate hate.
Whew.
Why do I hate them? Let's explore what nearly all of the mash-ups have in common: they are almost all classic novels written by female authors and/or featuring female protagonists. I think the best way to explain my feelings is to make a list of the mash-ups I know about, which I have done below (note that these are strictly mash-ups, not original stories, so it excludes Abraham Lincoln, Vampire Hunter, as well as the one about Queen Victoria):
Pride and Prejudice and Zombies – female author (fa), female protagonist (fp)
Sense and Sensibility and Sea Monsters – fa, fp
Little Vampire Women – fa, fp
Little Women and Werewolves – fa, fp
Jane Slayre – fa, fp
Mansfield Park and Mummies – fa, fp
Emma and the Werewolves – fa, fp
Android Karenina – fp
Alice in Zombieland – fp
The Undead World of Oz – fp
Adventures of Huckleberry Finn and Zombie Jim
As you can see, even the books written by a male author still feature female protagonists, with the sole exception of Twain. (This is the point where I invite you to add to my list, with the hope that there are more mash-ups that feature male protagonists out there.) I'm predicting right here and now that the next mash-up will be Wuthering Heights. Soon, though, these hacks are going to run out of public domain titles to butcher (a good thing, but also shows the appalling lack of female classic literature out there).
It's no secret that most of the books Western society considers part of the classic canon are written by men and feature men, so the argument that this is merely coincidental is clearly untrue. What does the mash-up trend have to say about our society's views of literature written by women and featuring women? I'll venture a few ideas:
Our society thinks female-driven literature isn't good enough to stand on its own, that it doesn't appeal to enough people to make it worthwhile reading by itself, that it needs something extra to make it worth our time. Our society thinks female protagonists in classic literature aren't sufficiently "bad-ass" or interesting enough, that they need either more violence or more humor or both. Our society views female written and female-driven literature as inherently frivolous (the characters, the events, the themes) and thus these books are perfect for the monster mash-up, which is meant to be frivolous and fun and nothing more. I could go on.
Please, give me your thoughts in the comments. I know I'm not alone, since I've read similar rants elsewhere. I really don't think I'm blowing this out of proportion.